How a Probate Advance Works
If you're in line to receive an inheritance, you'll be surprised to discover just how long it takes to settle a will that's in probate. You must go to probate court to close an estate – a process that's lengthy, slow, and inefficient. Luckily you can avoid the frustration, skip the court proceedings, and get your money fast with Inheritance Funding. As the oldest and most reliable company for probate cash advances, you can trust us to help you secure your inheritance at the lowest price, guaranteed.
At Inheritance Funding, we help you receive your money in the most effortless and stress-free way so you can collect your cash. We work with you to understand your situation, the use our resources to get you your money fast. Our probate cash advance process is quick, easy, and painless with four simple steps:
Free consultation
We start with a
free consultation
where one of our friendly staff members will explain the process, pricing, and answer any other questions you may have.
Estate review
We then review some basic
estate paperwork
to ensure that there are sufficient assets in the estate for us to help you. We will start by reviewing the petition for probate and the will (if one was left by the decedent).
Funding
Once we confirm your inheritance and approve your inheritance advance, we can wire funds
directly to you immediately
. We guarantee the lowest price and fastest service available - often funding within 24 hours!
Payout
When the estate is finally ready for distribution, we are paid back directly out of your share and the remainder of your inheritance comes directly to you.
How Our Probate Advance Process Works
It can be difficult to cope with the passing of a loved one, and the long and frustrating inheritance process doesn't help. At Inheritance Funding, we understand what you're going through. That's why we make it as easy as possible for you to get your inheritance when you need it most without the inconvenience of the Probate Court. We make the process fast and straightforward so you won't have to wait to receive the money that's rightfully yours.
At Inheritance Funding, we shift the responsibility of the probate process from your shoulders to ours. All you have to do is provide us with some basic information about your inheritance and let us know how much money you want to receive. Then, we'll walk you through some straightforward paperwork and send you your money within 24 hours. Once your estate is settled and ready for distribution, the estate pays us directly out of your inheritance, leaving the remaining money to you. It's that simple.
The Benefits of Choosing Inheritance Funding
With over 25 years of experience helping heirs get their cash when they need it, partnering with Inheritance Funding is a no-brainer. We'll get you the money you deserve at the lowest prices — without any loopholes or fine print. Take advantage of our trustworthy services and reap the benefits of your inheritance.
Use your inheritance today!
Our whole process takes as little as 24 hours to complete. In almost all cases, the entire process can even be completed on your phone or computer.
Lowest Price Guaranteed
Money for all your needs
There are no strings attached and an inheritance advance from IFC is your money to use however you see fit.
No risk of recourse for non-payment
This is not an inheritance loan so you are never personally responsible for repayment.
Not dependent on income or credit
We advance cash based only on what's in the estate. We don't care about your employment history, income, or credit score.
Zero hidden fees and monthly payments
There are no hidden fees, monthly payments, and the inheritance advance will never affect the share of other heirs in the estate.
Get Your Probate Cash Advance
Avoid the lengthy court process with a probate advance and get your money fast at Inheritance Funding. Our 100% employee-owned company has been the industry leader in inheritance cash advances since 1992. You can trust us to provide the personalized assistance you need during this challenging time.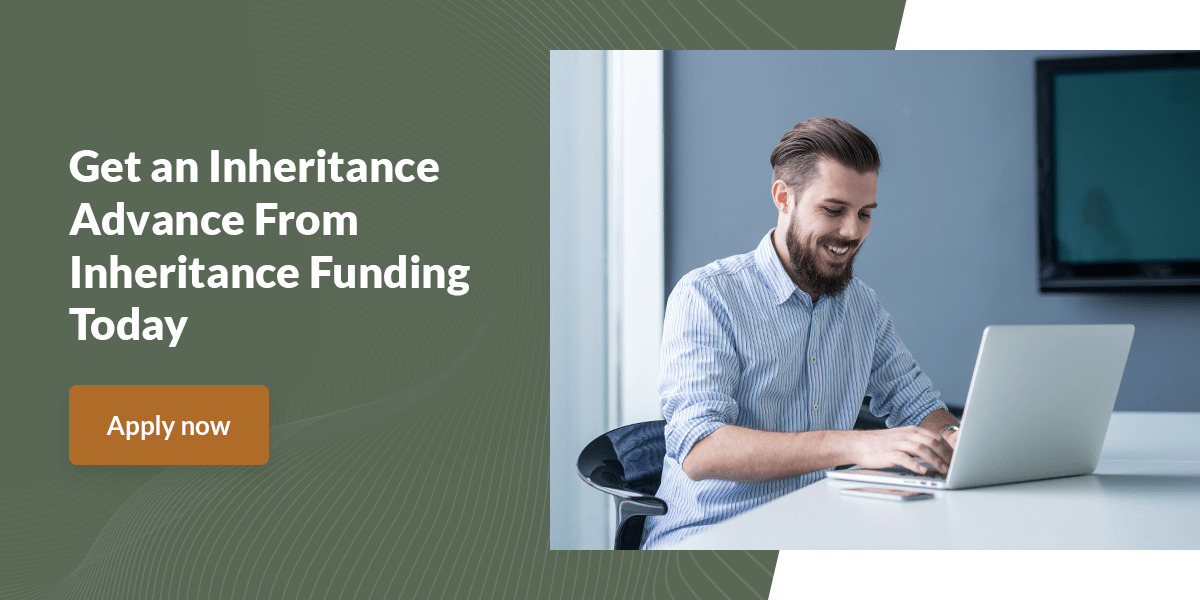 To get started, contact us for a free consultation today!