California Probate Resources | Inheritance Advances in CA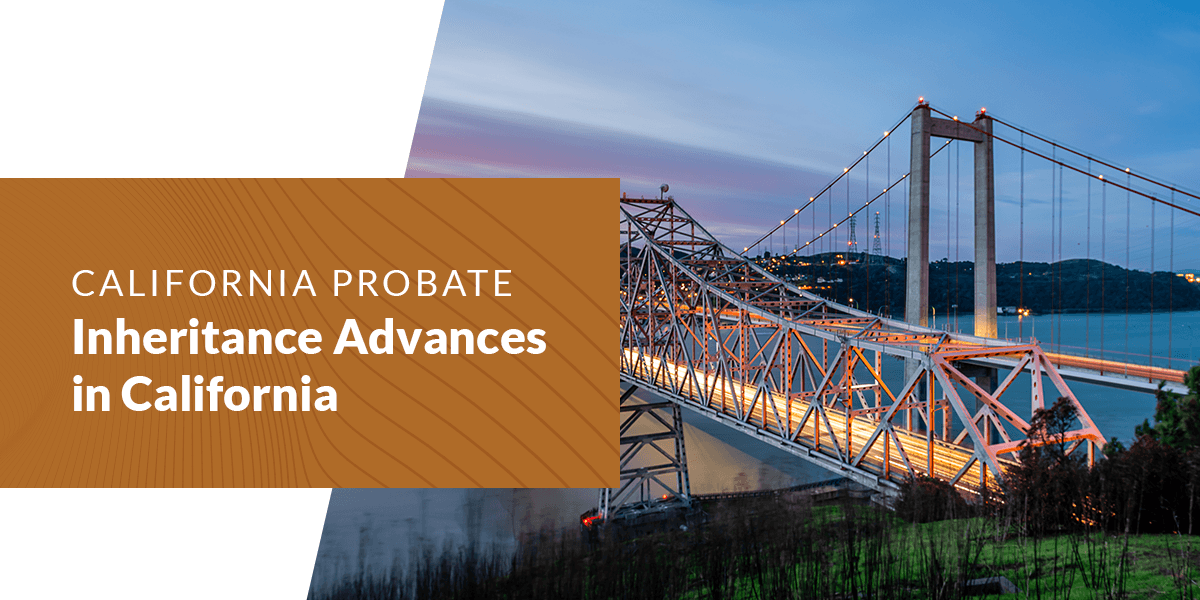 As an heir, you want to use your inheritance money today. At Inheritance Funding, we'll help you avoid the Probate Court process and collect your inheritance without complications or delays. As the oldest and largest probate cash advance provider in the industry, you can trust us to help get you your money fast.
The California Probate Process
When a loved one passes away and leaves an inheritance, the heir must go through California probate. Probate is the legal process involved in distributing the deceased's assets to the appropriate inheritors. How does probate work in California?
An heir files a petition and will with the court within 30 days of the death.
The court determines the executor, or personal representative. The descendant may have also listed an executor on their will.
The executor determines beneficiaries and secures assets and their values for the court.
The estate must notify creditors.
The executor pays outstanding debts and taxes, files taxes and pays other claims.
The estate is requested to be closed. After its closure, the executor gives heirs any remaining assets.
The probate rules in California may seem straightforward on the surface. However, they're quite complicated and can take months and even years to settle. California probate involves many delays, preventing you from receiving your money and using it how you wish.
Is Probate Required in California?
California law requires probate for most estates. In most cases, an executor must file a petition for probate and any will in the county court where the deceased person lived.
However, you can skip the probate process depending on the size of the estate, type of property and the named beneficiary's relationship to the descendant. California probate law outlines a simplified process for small estates with less than $166,250 in assets. This simplified process can only be used to transfer personal property — real estate, joint-owned property and vehicles are not covered under the streamlined procedure.
An heir of a small estate may transfer personal property with an affidavit if at least 40 days have passed since the death. Many banks, lawyers or court self-help centers have a particular form you can fill out, as some organizations may have their own affidavit. All heirs must sign an affidavit before giving it to the organization that currently has the property.
A family may also bypass the probate process if their deceased loved one has set up a living trust and named a successor trustee. As a successor trustee, an heir must transfer property ownership to themself as the new trustee.
How Long Does Probate Take in California?
Creditors have four months to make a claim against an estate. Therefore, the probate process must last a minimum of four months. However, California probate typically takes upward of nine months. Depending on the estate's size, the number of beneficiaries and whether the court contests the will, probate can take anywhere from 18 months to three years.
How Do You Avoid Probate in California?
The probate process can be long and stressful. After the death of a loved one, your family already has numerous responsibilities to handle. Therefore, many people seek ways to skip the California probate process.
An asset may not need to go to the courts if:
An asset like a life insurance policy, retirement plan or bank account already has a named beneficiary.
Real estate or vehicles have a transfer-on-death, or beneficiary, deed.
The property is in a living trust.
Two people own an equal share of the property together, also called joint tenancy. In this instance, the surviving owner gets the property.
Payable-on-death (POD) bank account designations, in which a descendant dictated a beneficiary for an account before death.
You can also receive a probate cash advance to receive your inheritance faster. A probate cash advance is not a loan, as there's no interest, and you won't have to make monthly payments to settle the estate. And you'll never be personally responsible for repayment like you'd be with a probate loan. After you get the money your loved one meant for you to have, you're free to use it however you want.
How Long Do You Have to File Probate After Death in California?
You must take a will to the probate office within 30 days of death. An executor who fails to file the will within 30 days waives their right as executor. California probate code also maintains that the executor must file a final distribution petition within a year. However, this process may take longer in the instance of a dispute.
Other deadlines to watch out for include:
Contesting an executor: An heir can only contest a descendant's executor before the initial hearing by filing a written objection.
Response to will contestations: Heirs can respond to individuals who contest a will for 30 days after receiving the court summons.
Petition to revoke probate: Heirs have 120 days after the will is submitted to the court to petition to revoke the probate process.
Spousal right to dispose of community property: A descendant's spouse must wait 40 days after death to file.

What Happens if Someone Dies Without a Will in California?
According to California intestate succession laws, if a California resident dies without a will, the state then decides the descendant's beneficiaries. Intestate successor laws only determine beneficiaries for assets that the will would have governed. Valuable assets like life insurance proceeds, retirement account funds, property with transfer-on-death designations and jointly-owned property are not decided by intestate succession laws.
The court decides the following people will receive a descendant's assets if they die with:
Children and no spouse: The descendant's children will inherit all assets.
Spouse but no children, nieces, nephews, siblings or parents: The descendant's spouse will inherit all assets.
Parents and no spouse or siblings: The descendant's parents will inherit all assets.
Siblings but no spouse, children or parents: The descendant's siblings will inherit all assets.
A spouse and one child or grandchild: The descendant's spouse will inherit half of their shared, or community, property and half of their separate property.
A spouse and multiple children: The descendant's spouse inherits all community property and one-third of their separate property. Their children will inherit the other two-thirds of the descendant's individual property.
A spouse and parents or siblings: The descendant's spouse inherits all community property and half of their separate property. Their parents or siblings will inherit the other half of the descendant's separate property.
Does California Have an Inheritance or Estate Tax?
California does not have an estate or inheritance tax. With an inheritance tax, individual beneficiaries pay inheritance tax after receiving assets. An estate tax is different in that the state taxes an estate before heirs receive any assets. However, you may still have to pay the federal estate tax if the estate's value is more than $12,060,000 in 2022. You must submit a federal estate tax return within nine months of a person's death.
Spouses in California Inheritance Law
How much of a descendant's assets a spouse will get depends on whether their property is considered community or separate property. While someone acquires community property after marriage, spouses may have separate personal property from before the marriage.
Spouses may streamline the probate process by using the Spousal or Domestic Partner Property Petition (Form DE-221). This form will allow a spouse to get a court order that declares their share of the community property and what percentage of their partner's belongs to them. If spouses have been married for a long time, they may have almost all community property, avoiding a complicated probate process.
How Can You Get Access to Inheritance Money in California Immediately?
With California probate being so slow and lengthy, it's normal to feel frustrated. It's your money, so why should you have to wait to use it? Probate involves many setbacks, but there's a way to forego the process altogether and get your cash fast.
Probate cash advances are the solution to receiving your inheritance in California. At Inheritance Funding, we make getting your advance as stress-free and straightforward as possible. All you have to do is give us some basic information about your inheritance and let us know how much money you want from the estate. Then, we'll walk you through some simple paperwork and send you your cash within 24 hours. You have total freedom to use your money how you want, when you want.
Where in California Can You Get an Inheritance Advance?
We get you your probate advance as quickly as possible, no matter where you live. We provide our service in every county in California, including:
Los Angeles County
San Diego County
Orange County
Riverside County
San Bernardino County
Santa Clara County
Alameda County
Sacramento County
Fresno County
San Francisco County
& all others!

Get an Inheritance Advance in California Today
If you think receiving an inheritance in California seems like a complicated and lengthy process, you're right. You can avoid Probate Court and get your money fast with Inheritance Funding. We help you get your cash advance when you need it with our simple four-step process, starting with a free consultation and ending with a payout in as little as 24 hours.
As the industry leader in inheritance cash advances, Inheritance Funding is always a step ahead of the competition. We provide a wide range of benefits you can't get anywhere else:
Use your inheritance today: You can complete the process quickly and easily by phone or computer in as little as one day.
Lowest price guaranteed: We'll beat any other offers from the competition to give you the most affordable price.
Money for all your needs: You can use your money however you choose — no strings attached.
No risk of recourse for non-payment: Because this is not a loan, you'll never be responsible for repayment.
Not dependent on income or credit: We don't focus on your income, credit score or employment history.
Zero hidden fees or monthly payments: We'll never charge any additional expenses or impact other heirs in the estate.
For over 25 years, we've been working with heirs in every state to help them collect their inheritance as quickly as possible at the lowest cost — and we want to do the same for you. Contact us for a free consultation to get started with your probate advance today!
Additional California Probate Resources:
Why Wait? Get Your Inheritance Now!
To get started,
give us a call directly or fill out the form to receive your free consultation.
Free inheritance funding consultation