Washington DC Probate | Inheritance Advances in Washington DC
The Washington, DC, probate process serves a vital purpose. When a resident of Washington, DC, dies, the probate courts oversee the distribution of all assets and belongings left behind. They first appoint a representative to be in charge of the estate, collect and itemize all assets and monetary accounts, ensure all outstanding debts are paid off, and determine the validity of any existing wills. Finally, when the court is satisfied that all other steps have been completed, they authorize the distribution of inheritance funds to the rightful heirs.

Delays To Your Inheritance in Washington, DC
The key problem with the process of probate in Washington, DC, is that it takes an extremely long time from start to finish. While probate is in process, heirs are not able to access the money their loved one wanted them to have. To make matters worse, the average estate in the US takes a full year and a half to finally distribute the inheritance money to the heirs. This fact is shocking to most heirs in Washington, DC, and elsewhere who are understandably new to the process. Having a rightful inheritance blocked for years by a legal process can prove very frustrating.
Common Questions About District of Columbia Probate
For your reference, we've compiled answers to the most frequently asked questions about Washington, DC, probate and inheritance law.
Is Probate Required in Washington, DC?
Probate is required in many cases in the District of Columbia. If the property value is under $40,000, you can settle under small estate administration.
How Do You Avoid Probate in Washington, DC?
You can avoid going to DC probate court by creating a living trust and making a trust document that transfers property ownership to yourself as a trustee. Upon your death, your successor trustee gains control of the transfer and can avoid probate. You can also avoid it in cases of the following:
Joint ownership
Payable-on-death designations
Transfer-on-death registrations for securities, real estate and vehicles
How Long Does Probate Take in Washington, DC?
It generally takes 12 to 18 months for probate in DC.
How Long Do You Have to File Probate After Death in Washington, DC?
You have up to 90 days to file a will in DC.
What Happens If Someone Dies Without a Will in Washington, DC?
If a person dies without a will, their estate will still go through the Washington, DC, probate court, which uses intestacy laws to determine who gets appointed to divvy up the property. Usually, the court chooses a surviving spouse or adult children, but it will sometimes select someone else in some cases, such as if a child or spouse has been out of someone's life for a long time.
Does Washington, DC, Have an Inheritance or Estate Tax?
The District doesn't have an inheritance tax, but it does have an estate tax. As of 2021, the estate tax kicked in for real estate worth more than $4 million, and the tax rate ranges from 12% to 16% depending on the property's value.
How Are Spouses Affected by Washington, DC, Inheritance Law?
According to DC law, if no will exists, several scenarios could play out:
The spouse inherits the entire estate if the deceased has no parent or other descendant.
The spouse receives two-thirds of the estate if the spouse is also related to the single remaining descendant.
If the deceased still has a living parent but no descendant, the spouse receives three-quarters of the estate.
The spouse gets half the estate if there is more than one living descendant related to both spouses or if at least one of the deceased's descendants is not related to the spouse.
Access Your Inheritance In Washington, DC, Immediately
Our probate cash advances are better than a probate loan. There's no interest charged and no monthly payments required. With an inheritance advance from IFC, you can access the money your loved one meant for you to have right away. The process is fast and easy and you decide how much of your inheritance you'd like to receive immediately. Whether you have bills to pay, car payments to make, home improvements, vacation plans, etc. – the money is yours to use however you'd like.
With over 25 years of experience and over $200 million advanced to thousands of heirs across the country just like you, we have the expertise and size to help you immediately. Let our friendly staff give you a free, no-obligation consultation. We're more than happy to walk you through the process of probate in Washington, DC, and answer all of your questions. There are no hidden fees, no monthly payments, and credit and income are never an issue. There's no need to wait years for what's yours; call us today and access your money right away.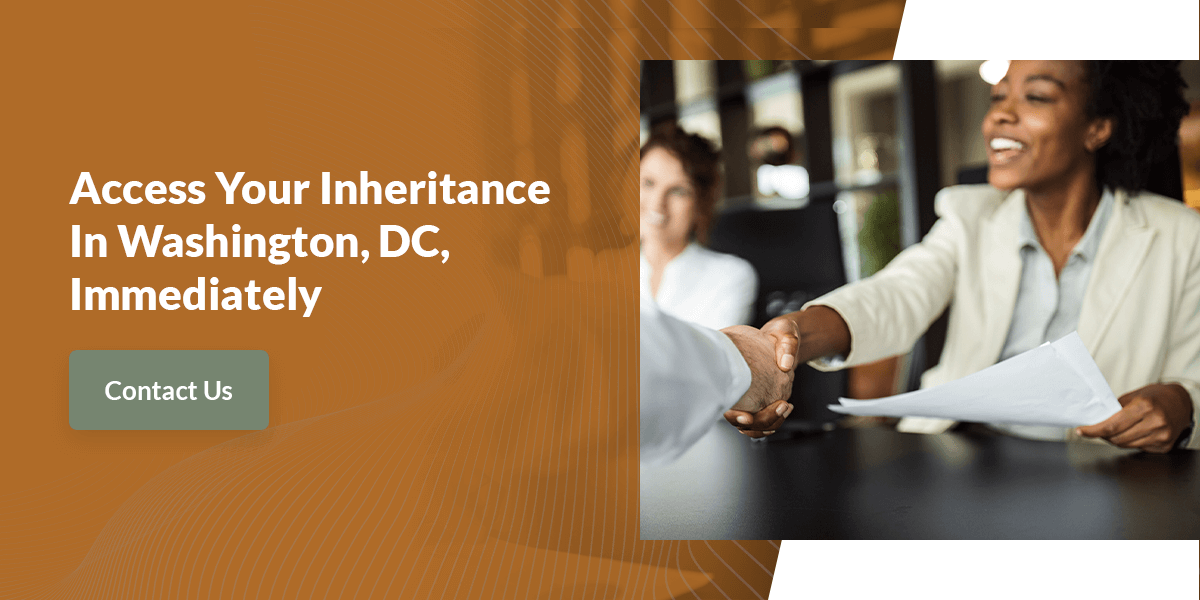 Why Wait? Get Your Inheritance Now!
To get started,
give us a call directly or fill out the form to receive your free consultation.
Free inheritance funding consultation