Arizona Probate | Arizona Inheritance Advances
At Inheritance Funding, we believe heirs shouldn't have to wait for their inheritance according to someone else's terms. That's why we help our clients avoid the prolonged probate court processes and get their money fast. Our many positive reviews and decades of experience make us the cash advance providers you can trust.
How Long Does Probate Take in Arizona?
If you recently lost a loved one, you've probably learned by now that you're required to participate in Arizona probate. Probate is a legal process where the decedent's assets are dispersed to their corresponding heirs.
Though the idea of probate sounds simple, this procedure is far more involved than it appears. Because Arizona probate is subject to many complications and delays, it can take anywhere from a few months to several years to complete, preventing you from getting your share in a timely manner.
Can I Get My Inheritance Money Faster in AZ?
Every heir experiences frustration at the length and complexity of Arizona probate. After all, you shouldn't be prevented from using money that you're entitled to. Luckily, you can skip the Probate Courts and get your money quickly.
With a probate advance through Inheritance Funding, you can retrieve your inheritance without the wait. We implement a painless and straightforward process to ensure you get your money as quickly as possible. To begin, we'll ask you for some standard information about your inheritance, including the amount of cash you're looking to access. Next, we'll have you fill out some simple forms before wiring your money to you as soon as that same day, enabling you to use your share however and whenever you want.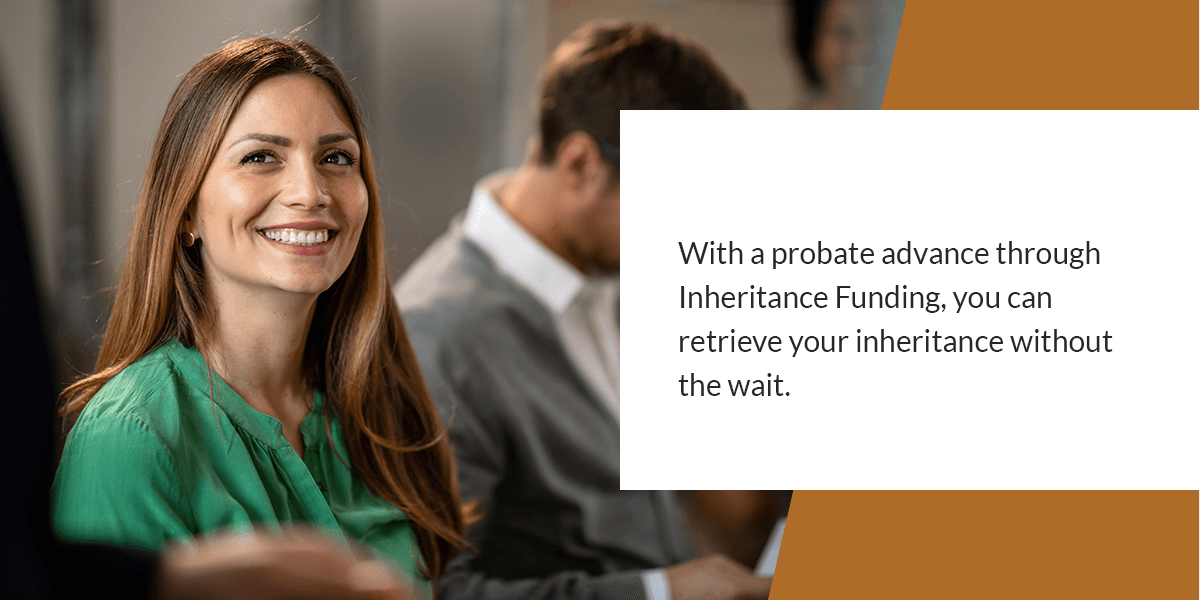 Most Common Questions About Arizona Inheritance Law
It can be frustrating to try to understand probate when you have no legal background. Here are some answers to frequently asked questions about Arizona probate to help clarify the process.
Is Probate Required in Arizona?
Probate is required in most cases in Arizona, and there are three types of probate — formal, informal and supervised.
How Do You Avoid Probate in Arizona?
You can avoid going to probate in Arizona by passing assets directly from one owner to the next upon the original owner's death. Typical cases include:
Living asset trusts
Contracts
Property held in joint tendency
Community property with a survivorship right
Payable-on-death bank accounts
Transfer-on-death deeds for real estate
Retirement accounts
How Long Does Probate Take in Arizona?
It generally takes four to 12 months to wrap up probate in Arizona. Informal probate takes less time, and it usually includes a will that isn't challenged. Formal and supervised probate are reserved for cases that include some legal challenges, so they may take longer.
How Long Do You Have to File Probate After Death in Arizona?
You have up to two years to file for probate following someone's death in Arizona.
What Happens if Someone in Arizona Dies Without a Will?
If a person dies without a will in Arizona, as in many states, their estate will pass through intestate succession. Generally, the distribution of assets depends on whether the person has living parents, a spouse or children:
Your children will get everything if your spouse has already passed.
Your spouse will get everything if you have no other descendants.
Your parents will get everything if you have no spouse or descendants.
Your siblings will get everything if you have no spouse or descendants and your parents are dead.
Does Arizona Have an Inheritance or Estate Tax?
There is no Arizona inheritance tax or estate tax, which is one reason the state remains so popular among older people. Arizona has favorable inheritance laws overall, although federal estate tax laws may still apply to money or property you inherit.
How Are Spouses Affected by Arizona Inheritance Law?
Spousal inheritance in Arizona depends on whether you acquired your property before or after your marriage. The property you own together will automatically go to the spouse if you have no other descendants. Your spouse may inherit part of separate property — anything you got before your marriage — but it will also be shared among your surviving descendants.
Where Can I Get an Inheritance Advance in Arizona?
We're prepared to get you your cash advance, no matter where in Arizona you call home. We cover heirs all throughout the state, including residents from:
Maricopa County
Pima County
Yuma County
Coconino County
Pinal County
Yavapai County
Mohave County
Cochise County
Apache County
Navajo County
& ALL other counties!
Our IFC Process
If you're fed up with Arizona's probate process, we understand your frustration, and we're here to help. You can forgo Probate Court and get your share of the estate instantly with our straightforward funding process. This fast and stress-free process begins with a free session and can lead to you getting an inheritance payout on that same day.
As the largest and most trusted probate advance provider in Arizona, Inheritance Funding is your solution for instantaneous funding. When you get your cash advance through us, you'll experience all the perks of the IFC advantage:
Money for all your needs: We enable you to use your inheritance however you please.
Lowest price guaranteed: IFC offers the best rates in the industry, beating out competitors to give you the most affordable price.
Not dependent on credit or income: We'll never judge your credit score, employment history or income.
No risk of recourse for non-payment: We aren't a probate loan company, so we'll never hold you accountable for repayment. Inheritance advances are risk-free!
Zero hidden fees or monthly payments: You'll never have to pay hidden fees or additional expenses.
Same-day process: You can complete our process by computer or phone in under 24 hours.

Skip Arizona Probate With an Inheritance Advance From IFC
You can get a quick and easy Arizona probate advance through Inheritance Funding. We've spent over 25 years helping heirs like you collect their cash exactly when they need it.
Why Wait? Get Your Inheritance Now!
To get started,
give us a call directly or fill out the form to receive your free consultation.
Free inheritance funding consultation