Alabama Probate | Alabama Inheritance Advances
The Alabama Probate Process
If a loved one passes away and identifies you as an heir to their inheritance, you're required to go through Alabama probate to get that money. Probate is the process of legally validating a person's final will before a local court to help ensure recipients receive assets and protect them from theft or fraud, which involves allocating an individual's assets to the appropriate people after their death.
Most heirs go into Probate Court unaware of how long and complicated the inheritance process actually is. Probate in Alabama is subject to many delays that prevent you from getting your money. Unfortunately, you can't access your share until the estate is settled — and that process can take months or years to complete.
Table of contents
Does Alabama Require Probate?
Alabama requires probate on qualified assets to ensure all wills go through the correct procedures and fulfill the deceased's wishes. This only applies to assets located within the state. Alabama probate cannot file assets that exist in other states.
Where Can You Get a Probate Advance in Alabama?
If you live in Alabama and need a probate advance, IFC has you covered. We serve heirs from counties all across the state, including:
Jefferson County
Madison County
Mobile County
Shelby County
Montgomery County
Baldwin County
Lee County
Tuscaloosa County
Morgan County
Calhoun County
& all other counties!
Can You Access Your Money Before Probate Court Is Over?
It's normal to feel surprised and overwhelmed at the length of the probate process, especially if you need your inheritance money for a specific purpose. Luckily, there's a way to skip the Probate Court proceedings completely and access your cash fast.
With a probate cash advance, you can get your money instantly without waiting on Alabama probate. At IFC, we can set you up with a probate advance fast so you can use your money how and when you want to. We start by requesting some standard information regarding your inheritance, along with how much money you want to access right now. Then, you'll fill out some simple paperwork before receiving your cash that same day.
How Do You Avoid Probate in Alabama?
If you are trying to determine how to avoid probate in Alabama, you need to know how wills or laws classify assets. Only probate assets go through probate, and there are a couple of types of assets you might encounter after the passing of a loved one. Nonprobate assets typically transfer automatically, bypassing the probate process.
Another category of assets that don't need to go through probate is jointly owned properties protected by rights of survivorship. If you shared ownership of an asset with your loved one, and you can keep it after they pass, you don't need to go through the Alabama probate process. Jointly owned homes or bank accounts often qualify as non-probate assets.
How Long Does Probate Take in Alabama?
The probate Alabama process varies depending on the asset types, estate size and any contests to the will.
Smaller estates often have short probate processes because they take less time to validate and manage. There are two probate processes in Alabama — one for smaller estates and another for full estates. Your loved one's estate may qualify as smaller if it is less than $30,245 in value, has all expenses paid, all arrangements organized and completed and if a notice has gone a week in the newspaper.
How Long Do You Have to File Probate After Death in Alabama?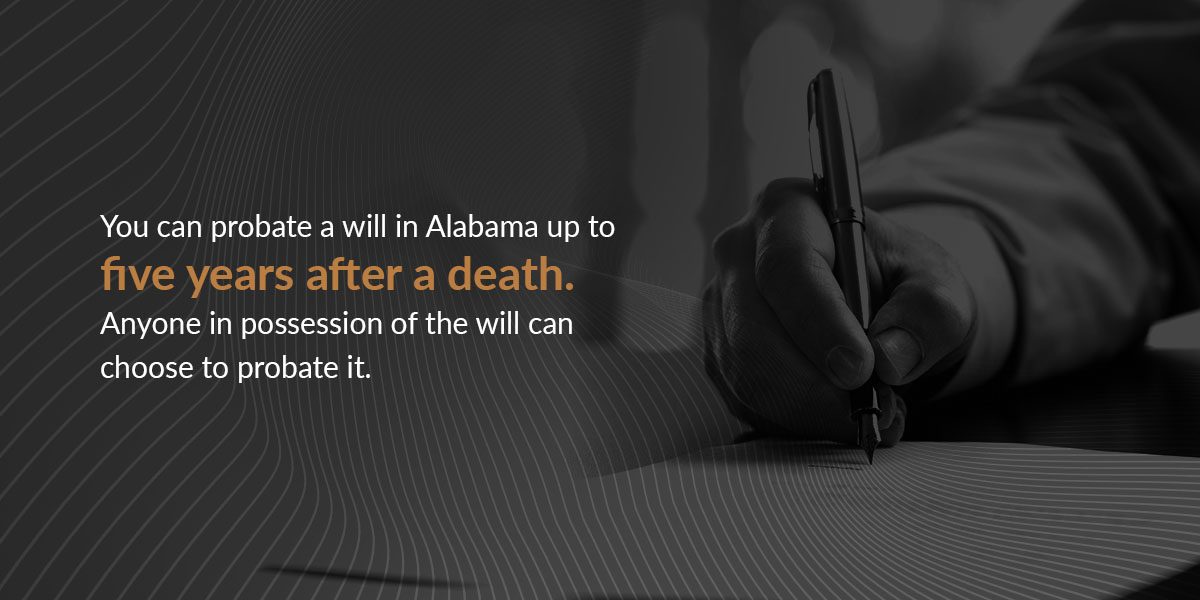 You can probate a will in Alabama up to five years after a death. During that time, many people can choose to file the will with Alabama probate courts, including the will executor, who oversees the distribution and management of estates, any persons named in the will and any persons interested in the will's contents. Anyone in possession of the will can also choose to probate it.
Alabama law states people need to file in the county the person lived in or where their properties are located. After filing the will, there are other steps you need to take as required by Alabama, including:
Filing a petition for probate: After you file the will, you need to file a petition for probate, which will act as a request to meet with the will's executor.
Publishing a notice: Post a notice of submitting the estate to probate in the deceased's local newspaper so any creditors, or people who your loved one might owe, will be aware of probate proceedings and can take action to collect owed money.
Who Inherits When There Is No Will in Alabama?
If a family member passes away without a will, you can still receive inheritance through Alabama's intestate succession laws. These laws only apply to biological and legal family members and assets disperse differently depending on the family, and they include spouses, legally adopted children, half-relatives and children conceived before death but born afterward.
In intestate succession, family members can receive any asset the deceased owned entirely in their own name. Courts cannot distribute joint-owned assets or named beneficiaries since they automatically fall to the new owners.
The amount of receivable assets depends on the living family members:
Spouse without children: When a spouse dies and neither has any children, the remaining partner can receive all their available assets in their estate.
Children with no living parents: If a parent passes away and leaves children without biological parents, they can receive all available assets in their estate.
Spouse with biological children: If a spouse dies and they have children together, the remaining partner splits assets between them and the children. The spouse receives the first $50,000 of the estate and splits half of the remaining amount with the children.
Spouse with the deceased's children: If a parent dies and their living partner hasn't legally adopted their children, the remaining spouse and the children split the estate's value evenly.
Spouse and the deceased's parents: The remaining spouse receives the first $100,000 of the estate and splits half of the remaining amount with the deceased's parents.
Parents and siblings of the deceased: If only the deceased's parents or siblings remain, they inherit all available assets.
Under Alabama law, grandchildren are only eligible to receive an intestate inheritance if the child of their grandparent is no longer living.
Does Alabama Have Inheritance or Estate Tax?
There is no inheritance or estate tax in Alabama. If your loved one has assets in different states, check their laws to see if the state can tax them.
Our Alabama Inheritance Advance Process
We'll help you access your inheritance without relying on the Probate Court with our fast, simple four-step cash advance process. After your free consultation, we'll get you your cash within 24 hours.
As an industry leader in probate cash advances, we always set ourselves apart from other companies by offering exclusive benefits:
Money for all your needs: You can spend or save your money as you see fit.
Lowest price guaranteed: We'll go above and beyond any competitor offers to get you the best price.
No risk of non-payment: Unlike for a probate loan, we never hold you responsible for the repayment of an inheritance advance.
Zero hidden fees or monthly payments: You'll never have to pay extra expenses. Plus, our services will never affect other heirs in the estate.
No income or credit requirements: We'll never deny you based on your income, employment history or credit score.
The ability to use your inheritance today: Once you complete our process from your mobile device, we'll send your inheritance right away. It's that easy.
Receive Probate Cash Advances in Alabama With Inheritance Funding Company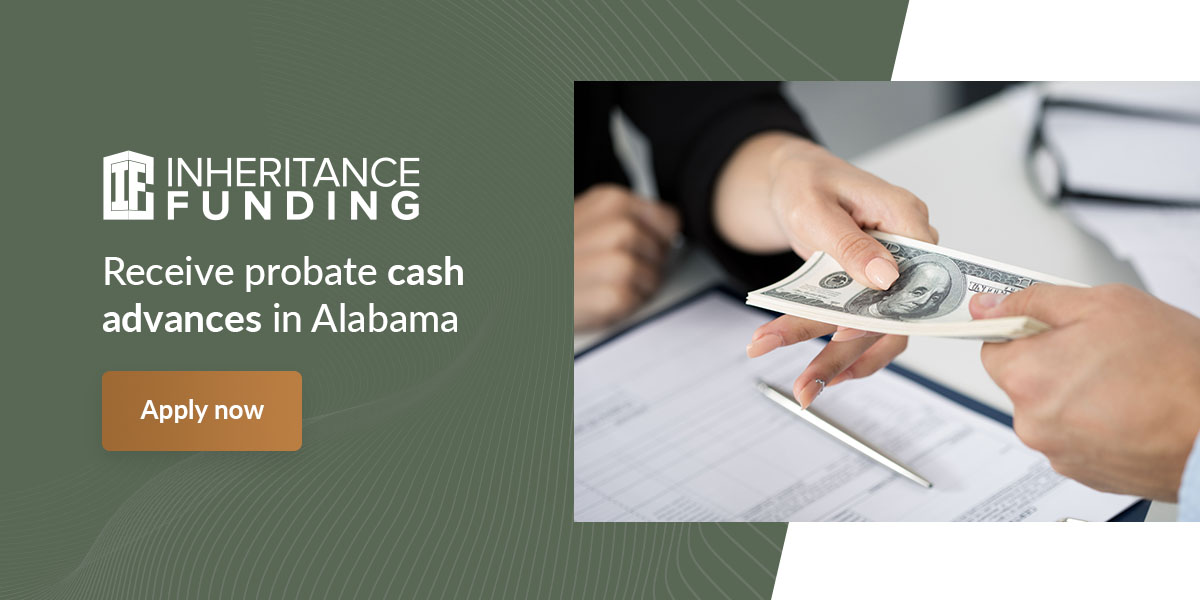 After losing a loved one, you deserve a fast, painless inheritance process. We can help you avoid the complexity of the Probate Court and access your money exactly when you need it. For a fast, stress-free inheritance process, choose Inheritance Funding. As the largest and oldest company in our industry, we're the experts you can trust.
Contact Inheritance Funding Company today to schedule a free consultation and get started on receiving a cash advance on your inheritance.
Why Wait? Get Your Inheritance Now!
To get started,
give us a call directly or fill out the form to receive your free consultation.
Free inheritance funding consultation