Integrity, Speed, Service. That's Our Promise to You.
Inheritance Funding Company (IFC) is an employee-owned company founded in 1992 in San Francisco, CA. IFC's age and size make us by far the oldest and largest company offering inheritance advances to heirs. Because we are employee-owned, every employee shares the responsibility of ensuring individual actions reflect the company's uncompromisingly strict ethical standards.
When a company does business this way, everyone, including the customer, shares a positive experience. Our mission is to be the best inheritance advance company providing inheritance cash advances to heirs in probate, regardless of traditional lending factors such as credit status, income, etc. We pride ourselves on exceptional customer service and dedication to our clients.
The IFC Advantage
Our dedicated staff here at IFC has over 130 years of collective experience in inheritance cash advances. In fact, Inheritance Funding Company is the leading provider of cash advances to heirs of probate estates. With over $200 million advanced to heirs and thousands of satisfied clients, we have the knowledge and expertise to get you an inheritance advance as quickly and efficiently as possible.

Excellent Customer Service
Our clients are our number one priority. We know that the passing of a loved one can be difficult — that's why we treat every case with understanding and empathy. We always strive to provide our clients with the most positive experience possible, enabling them to walk out of our office feeling confident and relieved.
We're committed to delivering the most professional and personalized customer service to every heir who reaches out to us. Our team of experts is here to assist you with the utmost care and reliability.
Simple, Stress-Free Process
We understand the frustration that comes with securing the money that's rightfully yours. That's why we make the cash advance process as easy and stress-free as possible — and we're always transparent about what you can expect moving forward. At IFC, we do all the heavy lifting while still keeping you in the know.
We begin with a free consultation where you let us know how much money you'd like to receive upfront. Then, we'll walk you through some straightforward paperwork and send you the requested portion of your inheritance within the same day. Once your estate is settled, we'll receive payment directly out of your share, leaving you with the remainder of the inheritance. It's that easy!
Same-Day Funding
You'll never have to wait for the cash that's rightfully yours. We get your money to you right away. Whether you want a small inheritance advance or want to access a larger chunk of cash, we're the best inheritance advance company for you. When you come to us for a cash advance, we'll transfer a portion of your inheritance to you within the same day, allowing you to use your money for whatever you want.
Low Price Guarantee
When you come to us for an inheritance advance, we'll set you up with the lowest price, guaranteed. Inheritance Funding Company offers some of the most competitive rates in the industry, beating out any other confirmed offers you may receive.
Unlike lenders, we never charge interest or require monthly payments. Instead, we offer you a fixed fee so you know exactly how much you'll need to pay, and we'll never surprise you with hidden charges or additional expenses.
Risk-Free Service
Our cash advances pose absolutely no risk to you as an inheritor, so you can feel confident and secure. Our services have no impact on your credit and will never affect another heir's share in the estate. Plus, there's no risk of non-repayment — if there isn't enough money in your estate to repay us, we'll take the loss. Unlike loans, our services are 100% non-recourse, meaning we're fully responsible for any liabilities.
Get in Touch With the Best Inheritance Advance Company
Are you an heir whose rightful inheritance is being delayed by court processes and endless paperwork? With IFC, you can access your inheritance right away – even within the same day! We make the process easy by getting you a portion of your share instantly, so you can use your money however and whenever you choose.
We are the oldest, largest and most trusted inheritance advance company in the industry, making us a team you can rely on. We pride ourselves on serving heirs all over the country. Just ask our customers and you'll see why we consider ourselves the best inheritance advance company in the country!
Give us a call now or fill out the form below for a no-obligation free quote.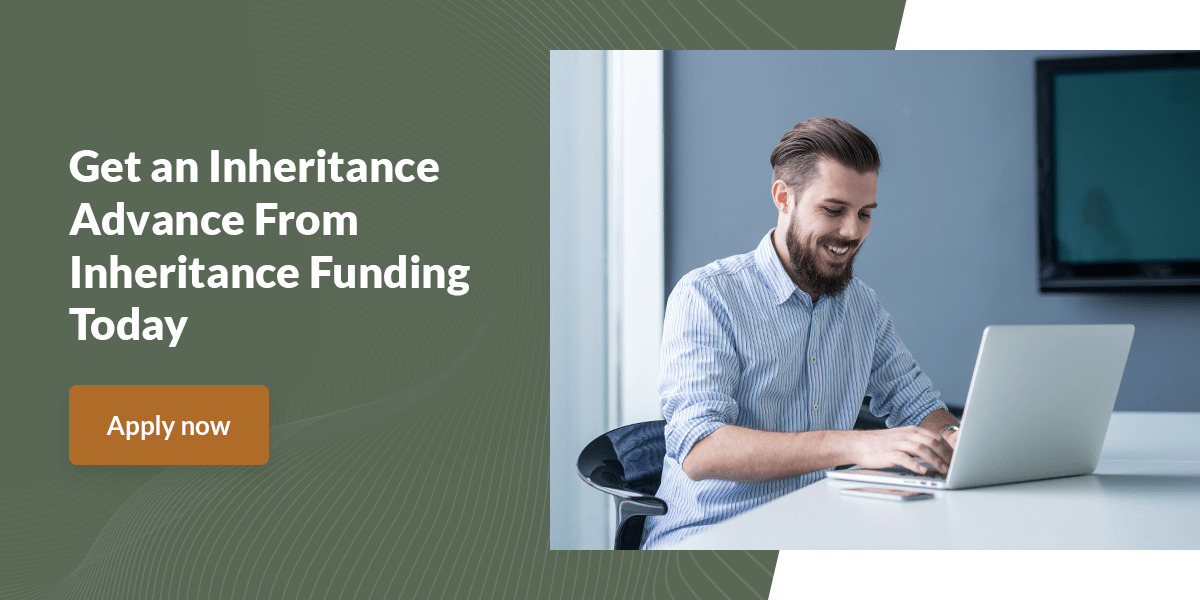 Why Wait? Get Your Inheritance Now!
To get started,
give us a call directly or fill out the form to receive your free consultation.
Free inheritance funding consultation