Florida Probate | Inheritance Advances in Florida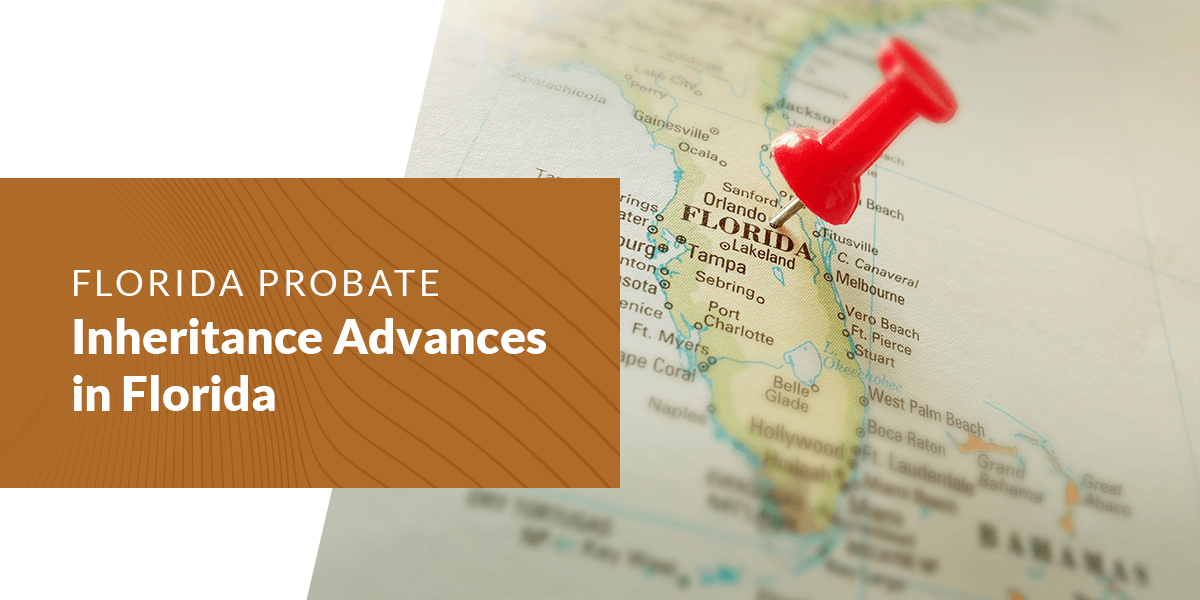 Probate is the process of ensuring the validity of wills and maintaining the deceased's wishes for asset distribution. The probate process can take months or even years, keeping heirs from their inheritance. Florida probate code is different from many other states, which follow a more standard code, and has many unique proceedings, making it challenging for heirs to navigate the process. Understanding how probate works in Florida and other essential information can help heirs through probate.
Does Florida Require Probate?
Florida probate rules require an executor or heir to submit wills to the county court where the deceased lived before passing to ensure the will's validity and handling of assets. Whoever has the will after your loved one passes must file it with local courts within the first 10 days of their passing.
Not all assets need to go through the probate process. Depending on the assets included in your loved one's estate, you may be able to bypass probate and receive your inheritance sooner.
How to Avoid Probate in Florida
Because probate is a long and complicated process, many heirs may want to take steps to avoid it entirely. Florida probate rules have many systems in place to help heirs bypass the probate process, including:
Living trusts: Living trusts allow people to transfer assets automatically to named beneficiaries upon their death. Because they move upon death and require no particular action, beneficiaries do not need to undergo the probate process to receive their inheritance.
Rights of survivorship: For assets that two people own jointly, owners can establish rights of survivorship to ensure the surviving people inherits the asset automatically upon the death of one partner. This often occurs between assets spouses own, including homes and bank accounts.
Life estate deed: Life estate deeds are very similar to living trusts, but they specifically deal with real estate properties. This type of deed allows the deceased to name beneficiaries in their will to receive their properties after they pass to help heirs receive assets without going through probate.
Estate planning: Estate planning allows a person to establish who will receive specific assets and care for them when they can't anymore. Unlike life estate deeds, which only pass to beneficiaries upon death, estate planning allows descendants to manage assets if their loved one falls ills and can no longer do so themselves. Many assets under estate planning include real estate, bank accounts and insurance policies.
While you will still need to submit wills containing these asset types to Florida local courts, you can receive your inheritance sooner and bypass lengthy probate processes.
If your loved one's assets must go through probate, you can apply for an inheritance advance to receive some of your inherited money quicker.
How Long Does Probate in Florida Take?
The probate process varies depending on various elements involved in assessing wills and dividing assets, creating a unique Florida probate timeline. Florida has several probate factors heirs should consider when estimating the possible length, including the estate's size. Other factors, like outstanding debts and objections to the will, can also lengthen the Florida probate process.
Florida has two main types of probate:
Summary administration: An estate can apply for a summary administration if heirs or an executor begin processing the will two years after the death of their loved one. The estate's value must be less than $75,000 in total with no outstanding debts or objections from creditors. You will also have to file a Petition for Summary Administration to begin the probate process and obtain the signature from a surviving spouse or beneficiary.
Formal administration: Also called the regular administration process, all other estates that can't qualify for summary fall under formal. It typically begins with the courts appointing an executor and notifying all heirs and beneficiaries that the probate process is starting.
Heirs can also file a Disposition of Personal Property Without Administration if the deceased's will applies. For an estate to qualify for a Disposition, it can't include any real estate property, and there can be no objecting creditors.
The formal administration probate process typically takes around six months to a year, though the summary administration and Disposition processes may require less time.
If you're coping with the difficulty of losing a loved one and don't want to deal with the tediousness of Florida probate, you're not alone. At Inheritance Funding, we'll make the inheritance process as smooth and stress-free as possible for you. As one of the most dependable cash advance providers in the nation, we're the experienced company you can trust.
What Is the Florida Probate Process Like?
According to Florida inheritance law, the Probate Courts must settle a decedent's estate and distribute their assets to the appropriate parties before heirs can collect their share. Most inheritors don't expect probate to be as drawn-out or involved as it is, but this complex legal process can play out for an extensive period before you get paid. Because Florida probate is so time-consuming, you may not see your portion of the estate for months or even years.
How Long Do You Have to File Probate After Death in Florida?
You will need to file your loved one's will within ten days of their passing. However, you can wait after that to start the probate process. To qualify for the summary administration process, you need to wait at least two years after your loved one's death.

What Happens If Someone Dies Without a Will in Florida?
If someone dies without a will, they will need to follow Florida inheritance law for intestate assets. When someone dies without a will in Florida, their estate can pass to their surviving spouse or descendants – any living relatives from the generations following the deceased's. Descendants can include children, grandchildren or even great-grandchildren. Depending on the surviving relatives, the estate can divide many different ways, including:
Surviving spouse only: If the deceased is survived only by their spouse, with no children or other living descendants, their spouse will receive the entirety of their partner's estate.
Surviving spouse with descendants: If the deceased is survived by their spouse and descendants, their spouse will still have priority over the estate and receive its entire value.
Surviving descendants only: If the deceased has no surviving spouse but has surviving descendants, they will receive the total value of their loved one's estate. The closest generation has priority, so living children will receive an inheritance over living grandchildren.
No surviving spouse or children: If the deceased passes with no surviving spouse or descendants, their estate will pass to any surviving parents or siblings.
If a Florida citizen dies without a will or any living relatives or descendants, the state will claim their assets. However, this is rare, and there are usually surviving relatives who can follow inheritance laws in Florida.
Does Florida Have an Inheritance or Estate Tax?
Florida has no inheritance or estate tax, which can help make the probate and inheritance process easier for heirs.
Can I Access My Inheritance Sooner in FL?
After discovering how slow the Probate Courts can be, most heirs become frustrated, wondering when they'll be able to use the inheritance money they're owed. Fortunately, there's a solution to the inheritance process, enabling you to pocket your cash immediately.
With a probate advance from Inheritance Funding, you can acquire a large portion of your inheritance without complications or delays. We've spent decades perfecting our fast and easy system, so you can sit back and relax while we handle the heavy lifting. You'll begin by giving us a run-down of your inheritance situation, including how much money you wish to access. After you fill out some simple forms, we'll wire your cash to you as soon as the same day.
Where Can You Access Inheritance Funding's Services in Florida?
IFC offers the most inclusive probate cash advance service in the country. We fund heirs from all Florida counties, including:
Miami-Dade County
Palm Beach County
Orange County
Pinellas County
Broward County
Hillsborough County
Duval County
Polk County
Lee County
Brevard County
And more
IFC's Probate Advance Services
If you're hunting for a faster way to collect your inheritance money, Inheritance Funding is your solution. Unlike the Florida state court system, we employ an effortless process for our heirs, beginning with a free session and finishing with instant funding to you while we wait for the future probate payout. We provide many exciting benefits through our services, including:
Cash without credit checks: We'll never judge you on your credit score, income or employment history.
No risk of recourse: We're not a probate loan company, which means you won't be accountable for repayment.
Lowest costs: We'll challenge any competitors with a lower, more affordable price.
Zero hidden fees: IFC will never charge you with additional costs or surprise expenses, and our service won't impact other heirs.
Money with no strings attached: Once you get your money, you'll get to use it however you want.
Quick and convenient process: You could get your inheritance funds on the same day you complete our online process, whether from your mobile device or computer.

Trust Inheritance Funding to Receive Inheritance Funds Quicker
Probate can be a lengthy process that requires many steps for heirs to go through. You don't have to depend on living trusts or other routes to avoid probate and receive your inheritance. With an inheritance advance service, you can receive a portion of your inheritance money sooner, so you can use that cash how you need to.
Inheritance Funding is the oldest inheritance advance company and can help you access your inheritance while you work through probate. When you apply with Inheritance Funding, you can receive cash as soon as that same day. Request a free quote from Inheritance Funding today and discover how soon you can receive your inheritance.
Why Wait? Get Your Inheritance Now!
To get started,
give us a call directly or fill out the form to receive your free consultation.
Free inheritance funding consultation