Collecting Assets from an Estate
Getting Started With an Estate Loan
If you're an heir to an estate, you may be anxiously awaiting your portion of the inheritance. Unfortunately, the inheritance process can be long and frustrating. Heirs often find themselves waiting years for their probated estate to close, delaying the distribution of money and incurring large legal fees.
That's where Inheritance Funding Company comes in. We provide fast cash to heirs such as yourself, regardless of credit status, current employment or income history.
As America's oldest and largest provider of inheritance cash advances, Inheritance Funding Company has offered competitive pricing and extremely fast and courteous service for more than 25 years. Your dedicated funding officer will be available at every stage of the process via email and phone. Estate heirs often receive cash the same day they apply.
How It Works
Inheriting money from your estate should be quick and easy. In reality, the process moves very slowly, with many delays and roadblocks along the way. At Inheritance Funding, we know how frustrating it can be when you have to wait to receive money that is rightfully yours. That's why we keep our estate advance process simple so you can get your money fast.
Here's how it works:
We schedule a free consultation where you tell us how much of your inheritance you want to receive.

We walk you through our straightforward review process.

You receive your estate advance payment as soon as that same day.

We wait for the estate to close so you don't have to.
Once the estate is finally ready to distribute the money, they pay us directly out of your share, and you receive the remainder of your inheritance. It's really that simple! There are no hidden fees or monthly payments, and your advance does not affect the share of other heirs in the estate.
Why Get Your Estate Advance From Us?
Inheritance Funding is the oldest, largest and most trusted estate advance provider in the business. Since our company was founded in 1992, we've advanced hundreds of millions of dollars to heirs just like you. You can rely on us to get your cash fast and treat your case with the utmost care and understanding.
Our clients are our top priority, and we strive to give you the most positive experience possible during your difficult time. Our industry expertise and compassionate service have helped us earn an A+ rating from the Better Business Bureau (BBB) and a rating of 4.8 stars from over 200 verified clients on Trustpilot.
When you get a cash advance on your estate from us, you'll benefit from:
Fast funding: 

We help heirs access their money immediately.

Low-price guarantee: 

We offer the lowest prices in the industry.

No hidden costs: 

You pay an upfront flat fee with no interest or hidden charges.

No personal history required:

 We do not check credit or employment as traditional lenders do.

No hassles: 

You are not responsible for paying us back. We work directly with the estate to ensure a stress-free process.

Zero risks: 

We do not require collateral. If there is not enough money to pay us when the estate closes, we take the loss.

Unrestricted use: 

You can use your estate advance however you wish, whether you want to pay off existing debt, finance a car or make a mortgage payment — the choice is entirely up to you!

Nationwide reach: 

We help heirs in all 50 states.
Contact Us for a Free Consultation
If you are an heir to a current probate and you are looking for an estate loan or cash advance, get started by calling us toll free at 1-855-340-7846 or by filling out our confidential form to request your free consultation.
Inheritance Funding Company can help you receive money right away and can provide an advance of $5,000 to $350,000 — in some cases, even more. We make the process easy so you can access a portion of your inheritance instantly and use it however and whenever you wish.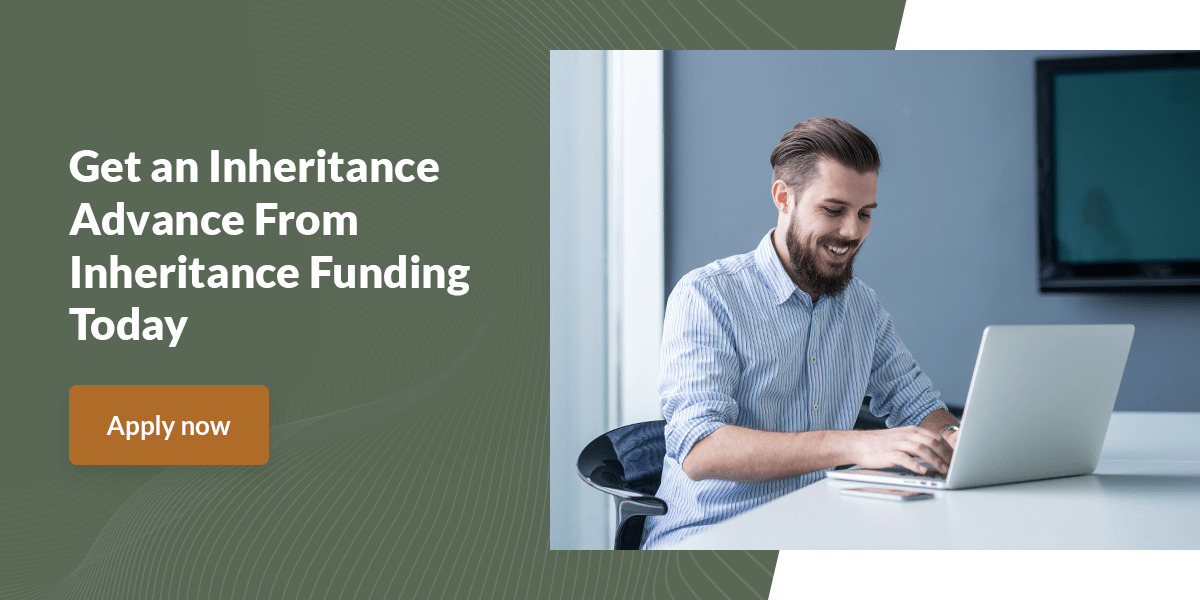 Why Wait? Get Your Inheritance Now!
To get started,
give us a call directly or fill out the form to receive your free consultation.
Free inheritance funding consultation