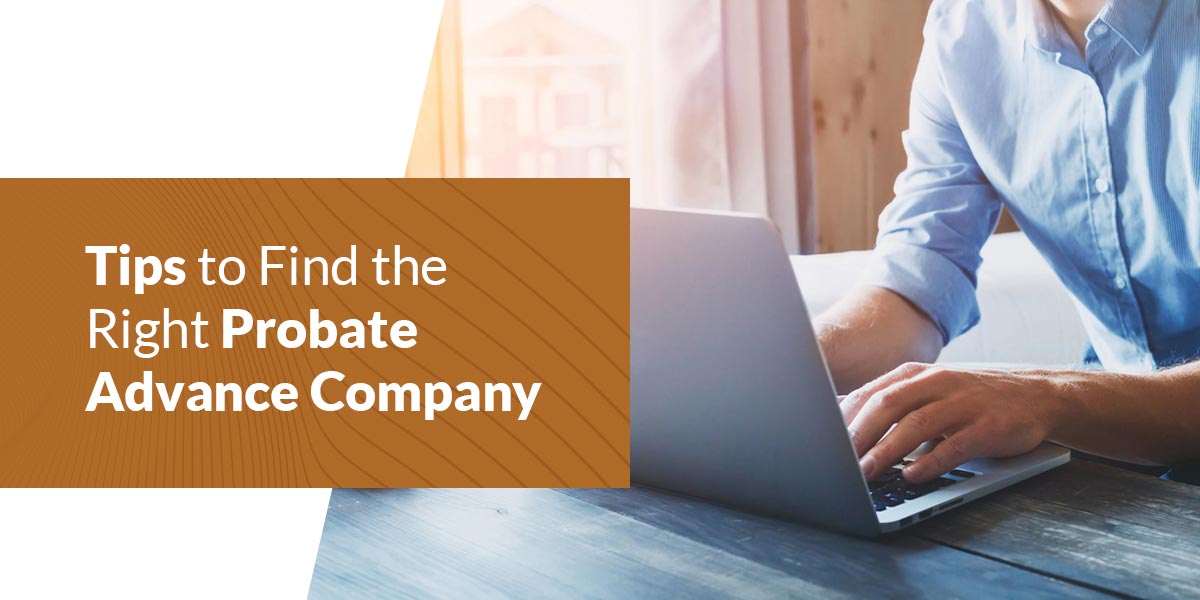 When a person dies, their estate can enter the probate process. Probate is an important process but does mean that it takes longer for heirs to receive any money or possessions left to them by their loved ones. How long probate takes depends on various factors, but it can be anywhere from a few months to a couple of years.
Fortunately, there is a way to get your inheritance sooner rather than later. It's possible to access your future inheritance by applying for a probate advance.
What Is Probate?
Probate is the process a person's estate goes through after their death. It takes place whether a person left a will or a died "intestate," that is, without a will.
After someone dies, the person in charge of carrying out their will — or the person appointed by the court if there isn't a will — files paperwork with the court. That person is responsible for inventorying the possessions of the deceased and for letting any heirs know about the will. The person in charge of the will is known as the executor. They might have to sell some of the deceased's assets to pay off any debts or determine the value of any assets.
The complexity of probate depends in large part on the steps a person took before their death. Some people put together elaborate estate plans to avoid a lengthy probate process. Others don't. That means that probate can stretch on for years in some circumstances. A long probate process is likely to occur when a person dies with significant assets and no will.
What Is a Probate Advance?
A probate advance, sometimes called an inheritance advance, provides an heir with money upfront while they wait for the will to move through the probate process. Once the estate has finished probate, the company that advanced the money receives the heir's share of the inheritance.
Probate advances are sometimes confused with probate or inheritance loans, but there are key differences. When you take out a loan, you borrow against your future inheritance. You agree to pay the amount borrowed back plus interest. You have to pay the loan back whether you end up receiving an inheritance or not.
A probate advance isn't a loan. You aren't borrowing money, and you don't have to pay interest. You also don't have to make monthly payments when you take out a probate advance. Instead, the estate pays the inheritance funding provider, not you, once the probate process is finished.
Probate advances are 100% non-recourse. The advances are secured by collateral — in this case, your inheritance. If there isn't enough money in the inheritance once probate is over, the funding provider can't go after you or make you pay the difference.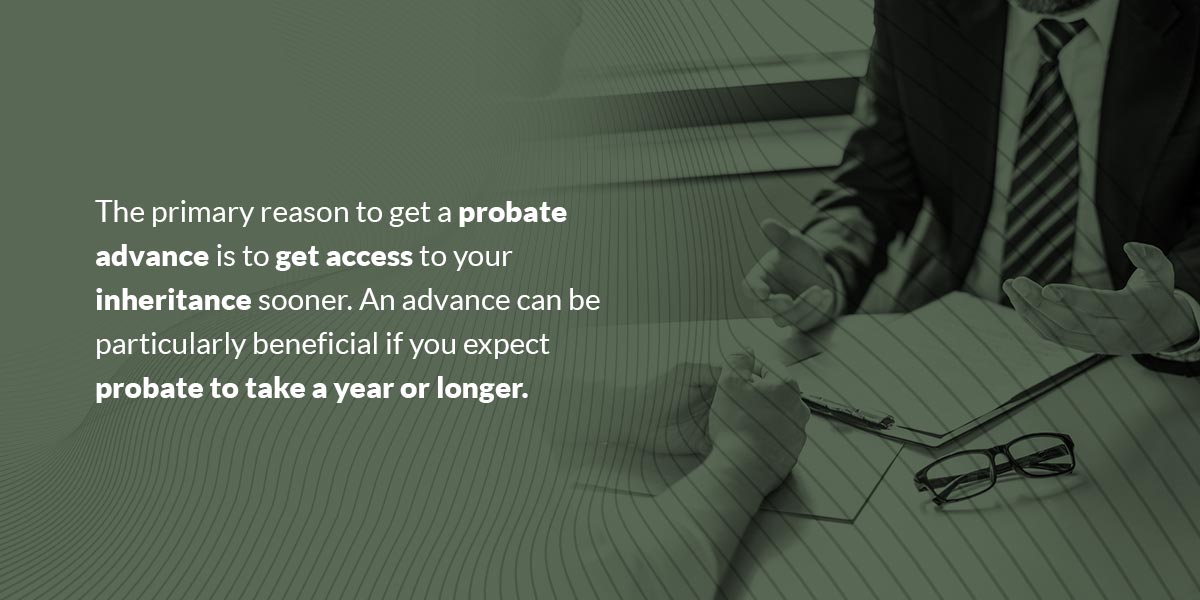 Why Get a Probate Advance?
The primary reason to get a probate advance is to get access to your inheritance sooner. An advance can be particularly beneficial if you expect probate to take a year or longer. Getting your inheritance sooner will help you reach your financial goals more quickly.
For example, you might be saving to buy a home. If you expect probate to take 12 months, the housing market will be considerably different than it is now. Mortgage interest rates might be higher and the sale price of homes might have climbed. But if you get a probate advance that helps you afford a down payment, you can apply for a mortgage before rates increase. You can also buy before prices go up.
Getting an advance also buys you time if you're saving for your future. If you apply for a probate advance and invest the money in a retirement account or another investment account, and the probate process takes a year or longer, the money you invest has an extra year to grow compared to if you waited for probate to end.
You might also have funeral expenses or bills to pay on behalf of your loved one. Getting immediate inheritance funding means you get the cash to cover those costs when you need it instead of paying with your own money and waiting for the inheritance.
A probate advance can be more affordable than a loan. You don't have to pay interest on the advance or make monthly payments. If your portion of the inheritance ends up being less than anticipated, you won't be charged by the funding provider for the difference.
What to Look for in an Inheritance Funding Company
If getting a probate advance makes sense for your situation, there are several things to pay attention to when finding a provider:
1. Reputation
Do some research and find out what others are saying about the company. You can read online reviews to get a sense of other people's experiences getting an advance. The Better Business Bureau (BBB) can also be a good guide. Look for a company with a high rating, such as A+, from the BBB.
2. Customer Service
Trust your first impression of the company. Was it easy to get in touch with someone, or did you spend a long time on hold or waiting for a response? When you have a question, how does the company handle it? If you visit the company's website, does it contain a lot of useful information?
3. Ease of Application
Pay attention to the application process. Find out what you need to provide and how long the company typically takes to approve or deny applicants. The easiest option is usually to apply online.
Your application ideally won't require a credit or employment check. There should also be no collateral needed and no impact on your credit.
4. Transparency
Ideally, you should have a full grasp of the funding process and what's expected of you before, during and after it. If you feel confused at all, reach out to the company and ask questions. If you don't get straightforward answers, that can be a sign that you'll be better off working with a different provider.
5. Competitive Rate
Look for an inheritance funding company that doesn't charge you anything up front or out-of-pocket. When you get an advance, the funding provider should operate under the assumption that it'll receive your share of the inheritance once the probate process is over. You shouldn't have to pay fees or interest in the meantime.
Tips for Finding a Probate Advance Company
When you're looking for a probate advance provider, your best option is to shop around and carefully review the offers available from various companies. In the end, you want to choose the provider with the best reputation, easiest application and lowest cost.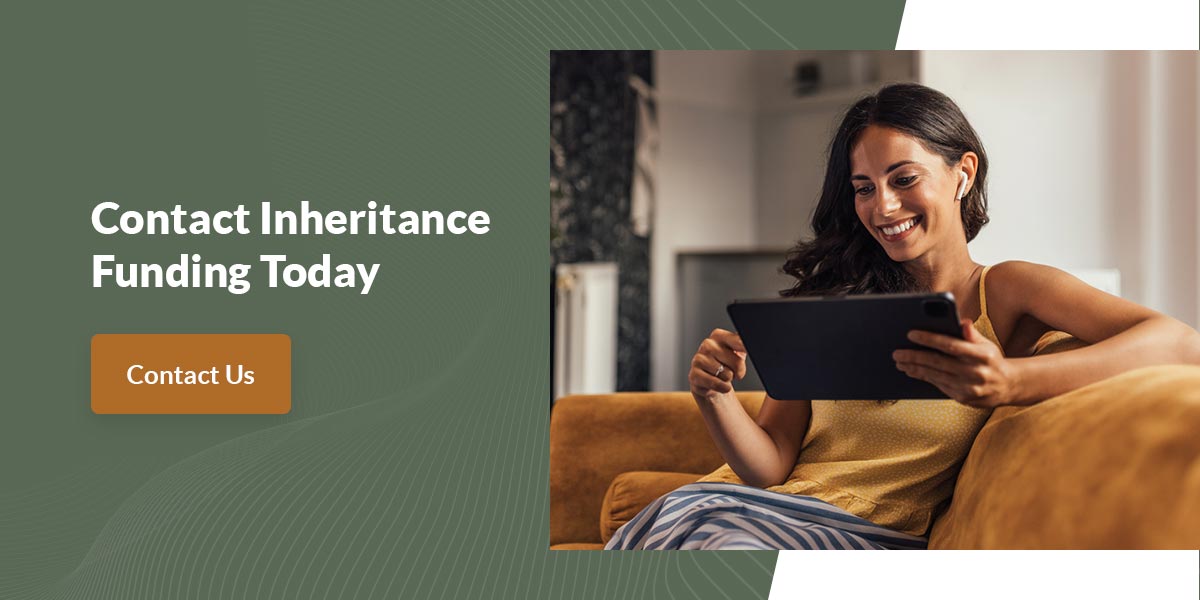 Contact Inheritance Funding Today
You deserve to get access to your inheritance sooner rather than later. Inheritance Funding makes that possible. We offer probate advances that get you your money fast. When you reach out to us, we'll provide you with details on the process before reviewing the estate. After we've confirmed your inheritance and approved you for an advance, you'll receive your money right away.
Contact us today to start the process and apply for your probate advance.
Why Wait? Get Your Inheritance Now!