If you're an heir to an inheritance, getting your share can be a long and frustrating process. The money often must go through a legal procedure known as probate before you can collect it. While many assume probate only takes a few weeks to complete, it can last up to several years.
Thankfully, there's a way to access your money sooner. An inheritance advance from Inheritance Funding gives you immediate access to your share. Read on to learn if you qualify for an inheritance advance.
What Is an Inheritance Advance?
An inheritance advance — also known as a cash, probate or estate advance — is a way to obtain a portion of your inheritance right away instead of waiting for the lengthy probate process to end. Unlike a loan, you do not have to pay this money back, and there are no monthly payments, interest charges or hidden fees. Instead, the estate pays the inheritance advance company directly from your share once the money is ready to distribute.
Who Can Get an Inheritance Advance?
Heirs in line to receive an inheritance may qualify for a cash advance. Each inheritance advance business determines a minimum amount they are willing to fund. These rates vary by company but can be as much as $50,000. At Inheritance Funding, we only require a minimum funding request of $10,000.
Every inheritance advance company requires various legal documents to verify your inheritance. You may be asked to provide a death certificate, petition for probate, valid photo identification and other legal records.
At Inheritance Funding, we'll never ask you for information about your income, employment history or credit score. We provide inheritance advances based on the estate, not your financial history.
Why Get Your Inheritance Advance From Inheritance Funding?
Inheritance Funding is the oldest and largest inheritance advance provider in the industry. We've advanced hundreds of millions of dollars to thousands of heirs just like you. We get you your cash at the fastest timeframes and lowest prices.
At Inheritance Funding, we understand what you're going through, and we know this can be a challenging time. You can rest assured we'll treat your case with the utmost care to ensure you have a positive experience. We'll also keep all your information 100% secure to protect your privacy.
We know you may be seeking an inheritance advance for many reasons. Whether you need the money to pay off medical bills or put a down payment toward a house, you're free to use your cash advance however you wish, with no strings attached.
We also keep our process simple so you don't have to wait to receive what's rightfully yours. In many cases, we approve and fund requests the same day we receive them.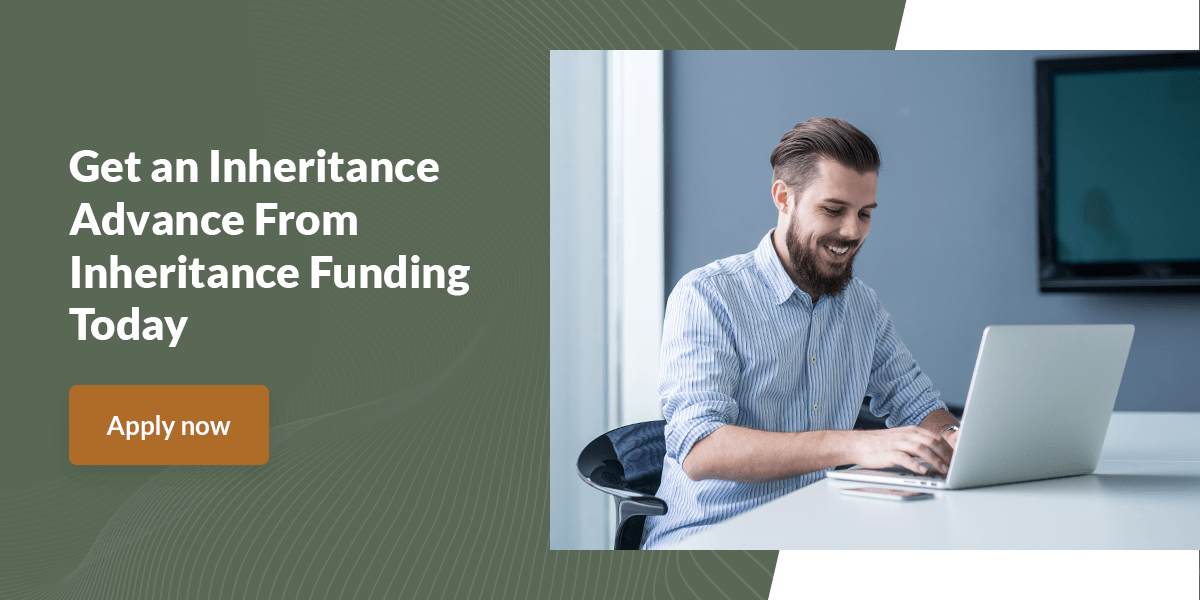 Contact Inheritance Funding About Your Inheritance Advance Today
Inheritance Funding is here to help you navigate the inheritance process and access your money immediately. Contact us today to schedule a free consultation. We'll answer any questions you may have and walk you through our quick, straightforward process.
Why Wait? Get Your Inheritance Now!