Most inheritors don't realize that the probate court must distribute a decedent's assets through the probate process before they can collect their share of the estate. The probate process can take from a few months to multiple years to complete, preventing you from using your money when you need it.
Fortunately, there's a solution that can get you your inheritance money fast. At Inheritance Funding, we strive to help heirs all over the country gain access to the inheritance money they rightfully deserve without the hassle.
Why Your Inheritance Gets Stuck in the Probate Process
Probate is subject to numerous setbacks and delays that can cause the process to slow and come to a halt. Some of the most common are:
Estate size: The larger the estate size, the longer probate will take. When an estate has many assets, there are typically more forms to complete, discussions to have and legal decisions to make.
The number of heirs: The more beneficiaries an estate has, the longer it takes to close. It takes time to notify each heir of probate proceedings and collect the proper paperwork from each, especially if inheritors live a long distance away. Multiple heirs also increase the chance of prolonged feuding and will contests.
Will: Estates that do not have a corresponding will are particularly challenging to settle, requiring the probate court to intervene heavily in the process. Even if the decedent has a will, it may be ambiguous or improperly witnessed or signed, further complicating the process.
Outstanding debt or taxes: If the estate owner has any existing debts, the debtors must file claims for their share of the inheritance, which can take months or years. The state taxing authority must also get involved with the process if the estate is taxable or owes taxes.
If Your Money Is Stuck in Probate, Apply for a Probate Advance
If your probate process is being held up by hindrances and delays, a probate advance is your solution. Probate advances allow you to access a significant portion of your inheritance without waiting for probate to end. Instead, you can collect your money as soon as the estate opens.
With probate advances, you aren't obligated to pay interest, provide collateral or make monthly payments like you would with a loan. All you have to do is pay a fixed fee that isn't due until after the estate is settled. Inheritance advances are non-recourse and pose no risk of non-payment, so even if there isn't enough money in the estate to pay the funding company after it closes, you won't be held responsible.
Stop Waiting and Get Your Inheritance Today
At Inheritance Funding, we make getting your inheritance money simple and stress-free with our efficient process beginning with a free consultation and concluding with an instant payout within the same day.
During the consultation, you'll provide us with some information about your inheritance, tell us how much money you'd like to access, fill out a few quick forms — and that's it! We'll wire your cash to you in as little as 24 hours.
Avoid the Probate Process With a Cash Advance From IFC
You can forego probate delays with a cash advance from IFC. When you choose us, we'll get you fast cash at the guaranteed lowest price exactly when you need it.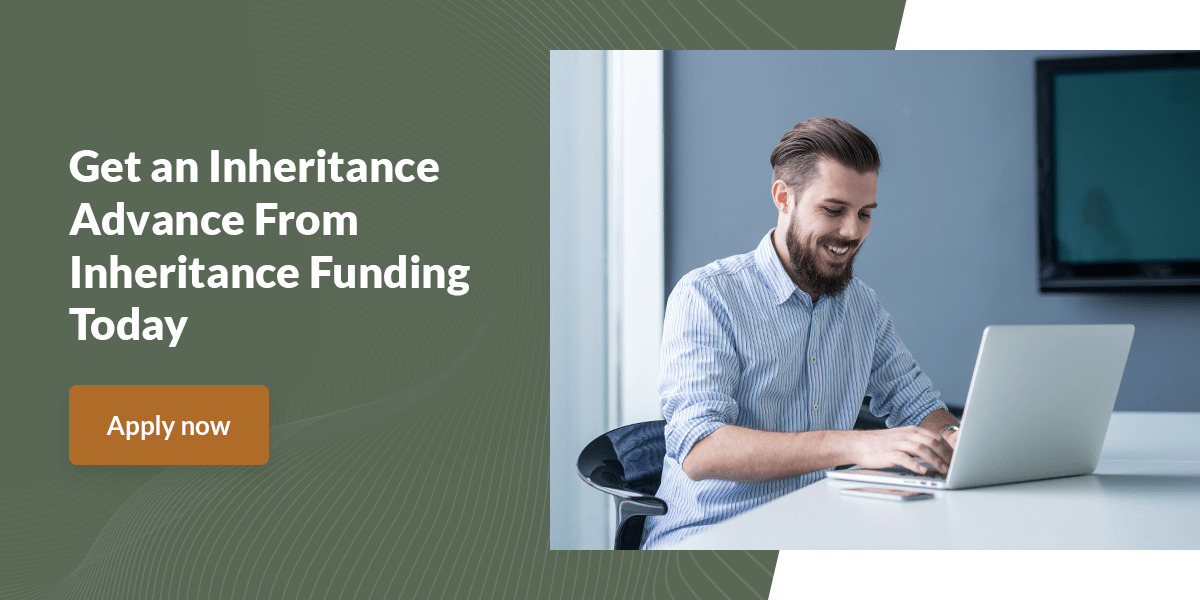 Contact us to learn more about our services today!

Why Wait? Get Your Inheritance Now!