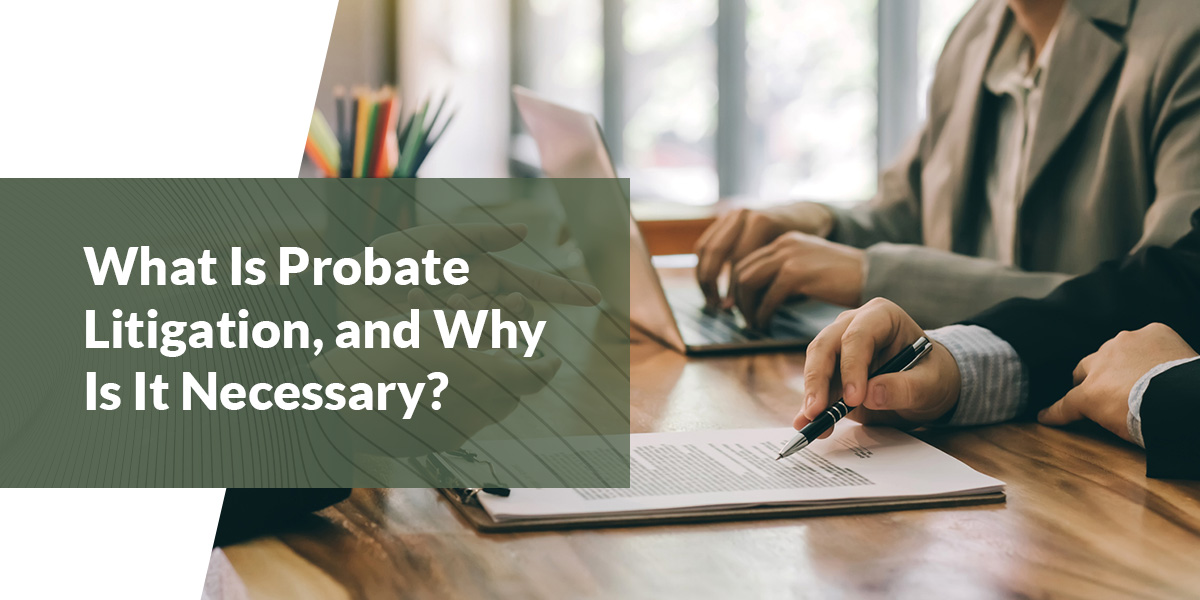 Probate litigation occurs when a decedent's heir, beneficiary or loved one raises suspicion about the decedent's will, estate, trust or other dispersed assets.
Perhaps someone who expected to inherit some of the estate was suddenly removed from the will before the decedent's death or there are questions about whether the decedent made certain adjustments while not of sound mind. In cases like these, someone will bring forth a probate lawsuit, and you must settle the dispute in court.
Table of Contents
The Importance of Probate Litigation
When someone dies, emotions run high for those who knew and cared about the decedent. Loved ones want to ensure they can honor the decedent's legacy and have what they need to grieve and remember them properly. Generally, the best way to ensure this process goes smoothly is to distribute the estate in the manner the decedent specified.
Furthermore, the decedent's estate is responsible for paying off any outstanding debts and taxes, so ensuring proper distribution prevents those responsibilities from falling to heirs or beneficiaries.
Is Probate Necessary?
Circumstances That Necessitate Probate Litigation
You should pursue probate litigation if there are questions about how a decedent or their appointed will executor or trustee has handled their assets. Some of the most common reasons people raise a probate lawsuit are:
A potential fiduciary breach: If an executor or trustee disregards the decedent's wishes, they will be in breach of their fiduciary responsibility. Upon discovery, the person would be removed from their position and required to pay back or recover damages they inflicted.
A will is contested: Sometimes, beneficiaries or the decedent's loved ones will contest the will. A contest can't happen simply because someone is upset with how the decedent wrote the will. There must be a legal basis for their decision, such as a sudden adjustment to the will while the decedent may have been incapacitated or changes made under suspicious circumstances.
Suspected undue influence: Undue influence refers to when someone takes advantage of the decedent while they were still alive. They may bribe or force the person to omit or add something to the will. Someone suspected of undue influence could have taken advantage of a person's mental incapacity and encouraged them to make changes they wouldn't have if they had sound judgment.
Connecting With a Probate Litigation Attorney or Lawyer
While your state may not require you to secure an attorney for probate, it's the best option to settle disputes in most cases. Your lawyer can walk you through what probate litigation is in detail and how a lawsuit may affect you personally. They'll know how to navigate all the relevant inheritance regulations and protect the decedent's estate and whatever you're owed.
Get Your Inheritance Now
When your loved one's estate is stuck in probate litigation, that process can prevent you from receiving the money you need. Contact Inheritance Funding today. We can provide the amount you're owed as soon as the same day. Even if you don't receive the anticipated amount once probate closes, we'll take the loss ourselves, so get started.
Why Wait? Get Your Inheritance Now!