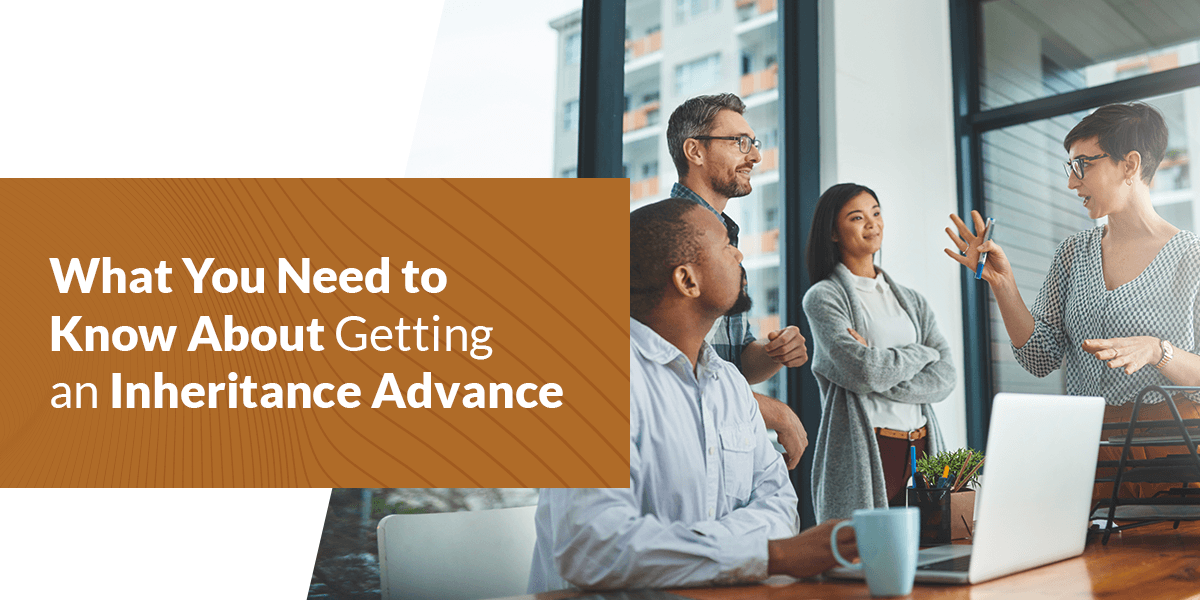 While you may expect to receive your inheritance quickly and painlessly, the reality is it's typically a lengthy process. There are almost always significant delays and roadblocks that prevent you from receiving your money right away. In most cases, the estate will need to go through the formal probate process before you can get your inheritance.
At inheritance Funding, we believe you shouldn't need to wait to get the money that belongs to you, which is why we help heirs get access to their cash fast. With an inheritance advance, you may be able to get some of the money from your inheritance early. In this guide, you'll find out everything you need to know about getting an inheritance advance.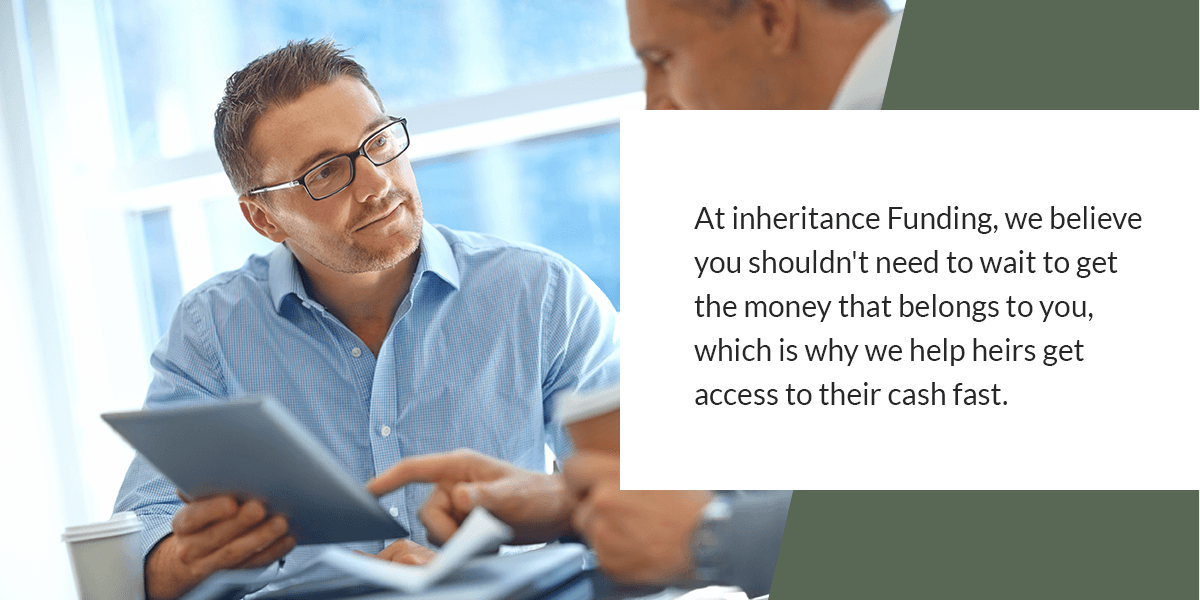 How Does the Probate Process Work?
After someone dies, their estate may go through probate. This process can be complex and lengthy, so it may take months to receive your part of the estate. Creditors need their payments, which can take a few months to a full year. If an heir contests the will or a creditor makes a claim against the estate the administrator disputes, the probate process can be delayed even further.
How Long Will the Probate Process Take?
If the estate in question is large, it can take a long time for all the assets to liquidate, particularly if the decedent was a business owner or partner or if real estate is included in the estate. If the decedent held investments like stocks, their property of value must be evaluated and sold.
The statute for the probate timeline varies from state to state, and it should be enough time for every heir and creditor to be notified. After each creditor provides evidence of a claim against the estate, the estate administrator needs to pay these claims before you or any other heirs can receive part of the estate. Additionally, state and federal taxes should be filed and paid. Once the probate process is complete, the inheritance is dispersed.
Can You Bypass the Probate Process?
In some cases, you may be able to bypass the probate process if the estate is small and there's a will. The money will be dispersed according to the will instead of going through probate. In some states, there are dollar limits on an estate's worth that determine whether an heir can avoid probate.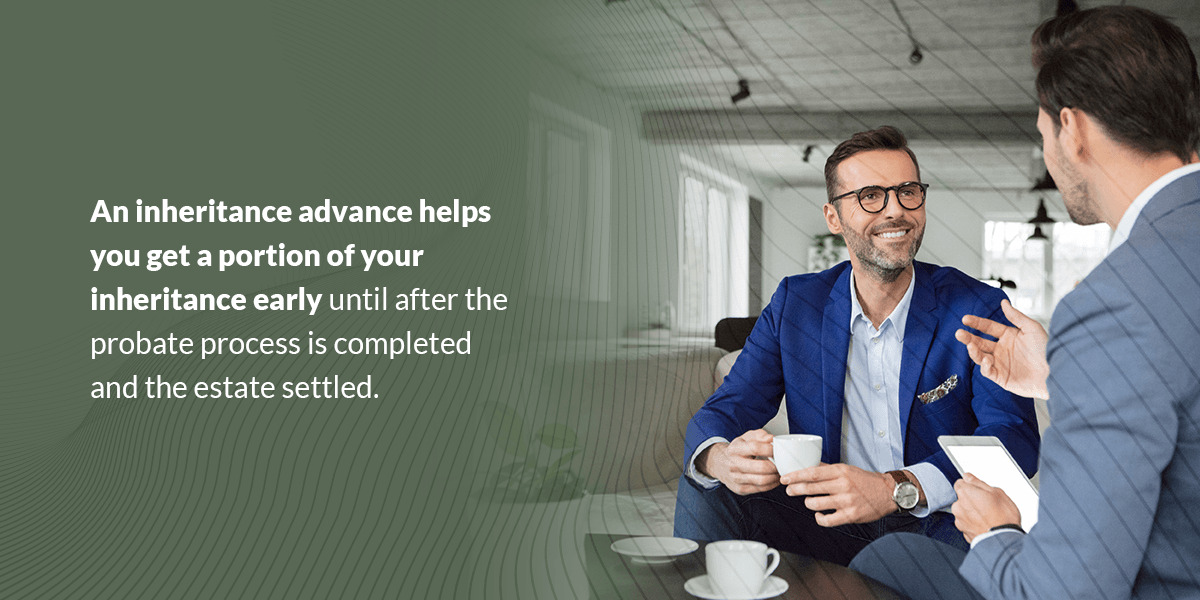 What Is an Inheritance Advance Agreement?
Even if you're entitled to an inheritance, you must wait until the probate process is complete. If an estate is in probate, you can't speed up the process or disbursement. Each step needs to be completed under the guidelines set by the state. You usually can't get a home equity loan on your inherited property until after the estate is settled, as well.
However, there's another option. An inheritance advance, also known as a probate money advance or estate advance, helps you get a portion of your inheritance early until after the probate process is completed and the estate settled. To obtain an inheritance advance, you'll need to provide the following information:
Valid photo ID

Inventory sheet

A petition for probate

Letters of administration

Notice to the estate's creditors

A copy of the decedent's will, if applicable

A copy of the death certificate of the estate's decedent

A document that identifies the estate's administrator or executor
You won't need to provide information on your income, credit score or employment history. While an inheritance advance company will want to see proof that you're an heir to the estate you're claiming, and they may acquire a credit report to see certain proceedings, your financial background won't matter. Essentially, your cash advance is based solely on the estate owed to you.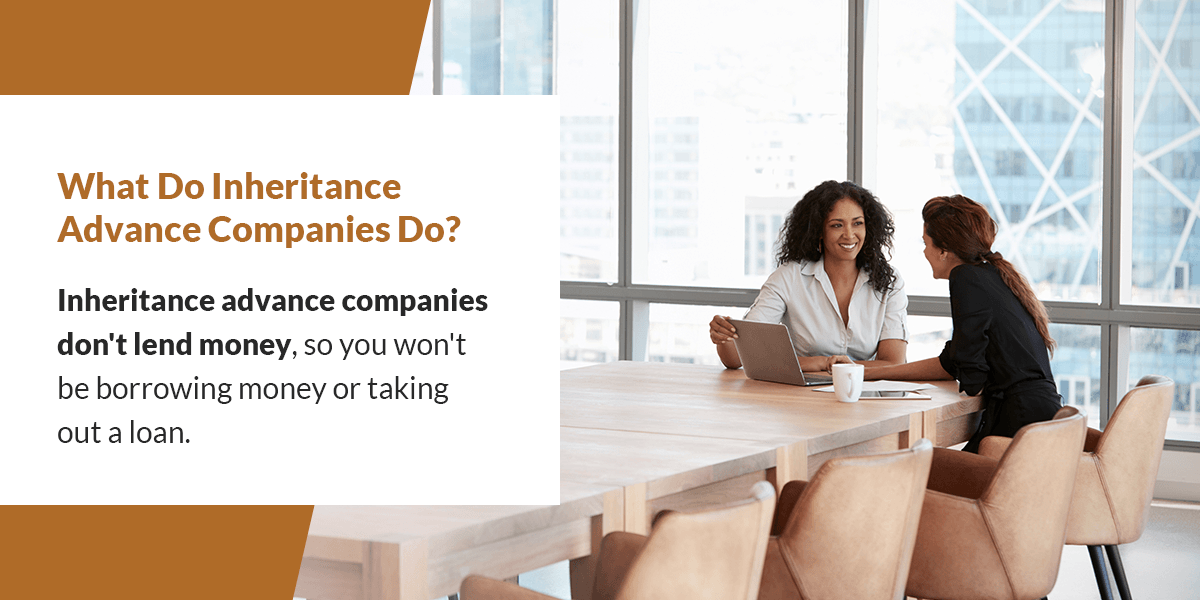 What Do Inheritance Advance Companies Do?
An inheritance advance company helps you take an advance on your inheritance agreement, meaning you'll receive a portion of your inheritance early. Inheritance advance companies don't lend money, so you won't be borrowing money or taking out a loan.
What Does the Inheritance Advance Company Get in Exchange for the Advance? 
In exchange, the company will receive a part of your inheritance after it's finally paid out after probate. When you choose to work with Inheritance Funding, you'll sell a fixed amount of your eventual inheritance to Inheritance Funding. This fixed amount, also known as the assignment amount, is stated clearly in the contract and agreed on before your advance pays out.
What Happens if the Estate's Distribution Is Delayed?
At Inheritance Funding, we don't receive our payment until the estate is distributed. You won't suffer any penalties if your distribution is delayed for any reason, and the assignment doesn't become more expensive or accrue interest over time. Regardless of how long your distribution is delayed, your flat fee won't increase.
What if There's Not Enough Money to Pay the Inheritance Advance Company?
A significant risk an inheritance advance company takes on is the possibility you won't receive enough from the estate distribution to pay back your advance and the fee. As long as you provide accurate information on your application and honor your assignment agreement, you don't have any personal liability to repay the advance.
Can I Get an Advance on My Inheritance?
You can get an advance on your inheritance when you choose to work with us at Inheritance Funding. You can fill out an application for an inheritance cash advance on the estate, and we'll send you cash. Simply provide documentation proving you're an heir of the estate and are interested in selling your share of the property you're inheriting.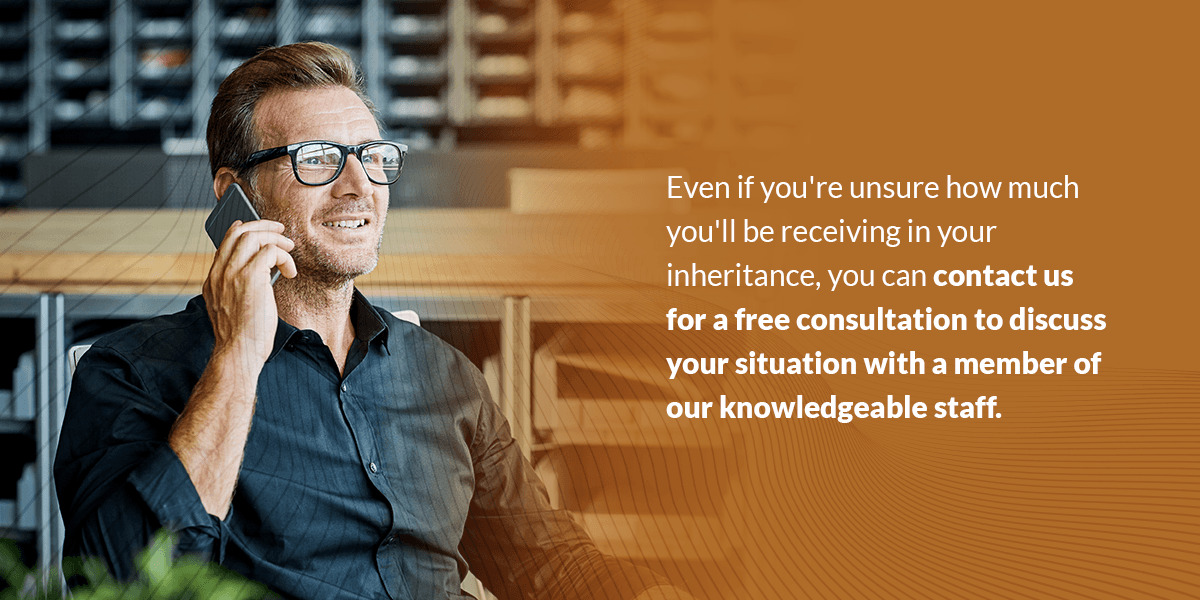 Do I Qualify for an Inheritance Cash Advance?
To be eligible for an inheritance cash advance, you need to be receiving a minimum amount from your inheritance. The amount varies from company to company, and some can require as much as $50,000 to qualify. Additionally, the probate estate must already be open or about to be opened to qualify for an advance. Compare the requirements between inheritance cash advance companies to find the one that's right for you.
At Inheritance Funding, you may qualify for an inheritance cash advance with an inheritance of just $10,000 from an estate. Additionally, while we work with heirs in every state, we don't work with estates outside of the United States. If you reside in a different state than where the estate is located, you won't experience any issues. Heirs commonly live in different states from the estates in probate, and we have experience working with estates across the nation.
Even if you're unsure how much you'll be receiving in your inheritance, you can contact us for a free consultation to discuss your situation with a member of our knowledgeable staff.
Will Credit Problems Disqualify Me From an Inheritance Advance?
A poor credit history that might include foreclosures, delinquencies or discharges in bankruptcy won't prevent you from receiving an inheritance cash advance. Inheritance Funding may still get a credit report to prepare your case for funding to determine whether there are child support proceedings, bankruptcy proceedings or other judgments that could impact the eventual payment.
What Rights Does an Heir Have?
If you're an heir to an estate, you have rights during the inheritance process that protect you through every step. These rights include:
The right to fairness: 

You're entitled to a will executor who will perform their duties without favoritism.

The right to seek relief: 

If you believe the executor of the will isn't fulfilling their obligations fairly, you can seek relief through the court system.

The right to information: 

You can request information about the estate's administration, payments and assets.

The right to timely transfers: 

Once the decedent's will is probated, you have the right to get your portion promptly.

The right to executor approval:

 You have control over how much the estate's executor will be compensated for their service.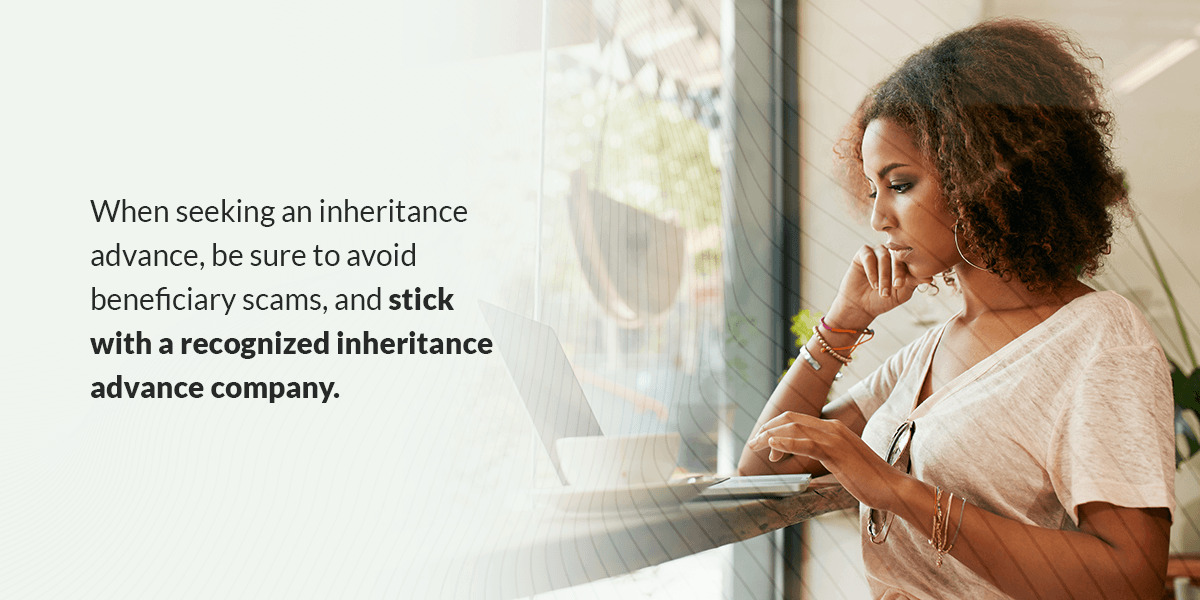 How the Application Process Works
After reviewing your information, we'll determine whether we can approve you for an inheritance cash advance. Once you're approved, the money can be deposited in your bank account either on the same day or in the next coming days. This urgency is why so many heirs apply for an inheritance advance — it's a faster way of getting access to some of your money compared to waiting for probate to finish.
Applying for a cash advance is a quick, simple process. Instead of basing your approval on your personal information, we base the decision on your inheritance. Even if you don't have a great credit or employment history, you can still be approved. That said, keep in mind that we'll need to check your application and verify you have a stake in the inheritance before approving your request.
We work with the estate's administrator to obtain the final details after you provide all the needed information. Because we communicate with the administrator, we know the distribution timeline, which could impact fees and risks expected with the inheritance. Next, we write up the terms and present you with the offer.
When seeking an inheritance advance, be sure to avoid beneficiary scams, and stick with a recognized inheritance advance company.
How Much Cash Can I Get?
With an inheritance cash advance, the amount you can receive is based on your portion of the estate. Typically, inheritance advance companies cap your advance at a percentage of your total inheritance.
The percentage of inheritance a company will fund varies from company to company. For instance, if a company is willing to give you 25% of your inheritance upfront, and your inheritance is estimated at $100,000, you could get an advance of $25,000.
Is an A
dvance on an Inheritance Agreement the Same as an Inheritance Loan?
An inheritance cash advance isn't the same as an inheritance loan. An inheritance advance is better than an inheritance loan because there's no interest and you don't need to pay the money back.
If you borrow money from a lender, you'll make monthly payments, likely at an interest rate based on your credit history. The higher your interest rate, the less money you'll receive from your inheritance. If you don't repay your loan on time or miss a monthly payment, you may even have to pay late fees.
What's worse, if you don't receive enough cash from the estate to repay the loan, the lender can still demand you pay the borrowed money back. With an inheritance advance, you won't face these risks. Your cost is a flat fee you pay from your inheritance. However, Inheritance Funding deals with all of this for you, so once you're approved — which takes less than 24 hours — you're ready to go.
What Are the Advantages of Taking an Advance Against an Inheritance?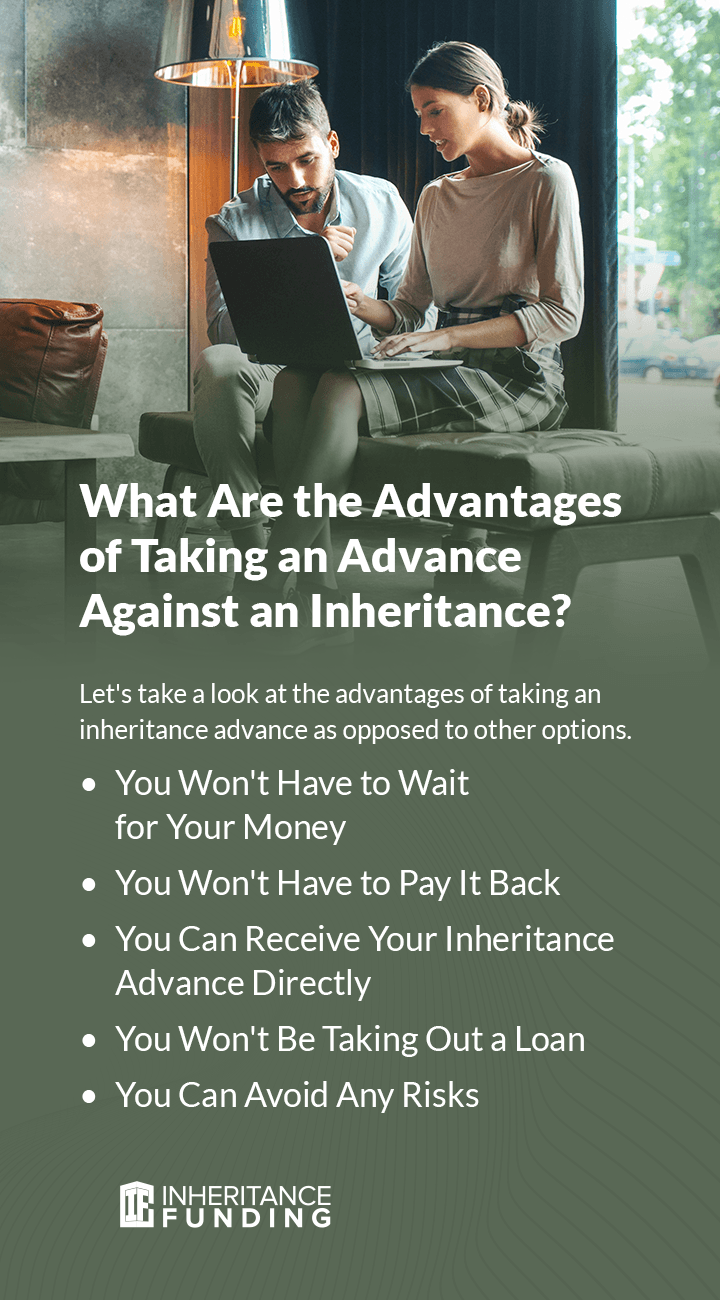 If an estate is relatively straightforward, you may be able to get your inheritance quickly. However, in many cases, it can take a long time to receive an inheritance. As such, it makes sense to take an inheritance cash advance. Let's take a look at the advantages of taking an inheritance advance as opposed to other options.
1. You Won't Have to Wait for Your Money
In the United States, it takes 17 months on average for your inheritance money to reach you. With an inheritance advance, you can gain access to a portion of your inheritance money immediately after the estate opens. You can then use this advance to spend, save or invest as you like.
2. You Won't Have to Pay It Back
One of the major advantages of an inheritance advance is you don't need to pay it back, unlike an inheritance loan or a loan against your inheritance money. Instead, the inheritance advance company will provide you with cash for a part of your inheritance — and if something occurs with the estate that leads to your money not being distributed, the company will take the loss.
Therefore, there's no risk to you if you lose a part of your inheritance to probate if the will is contested and altered or other claims are made against the estate.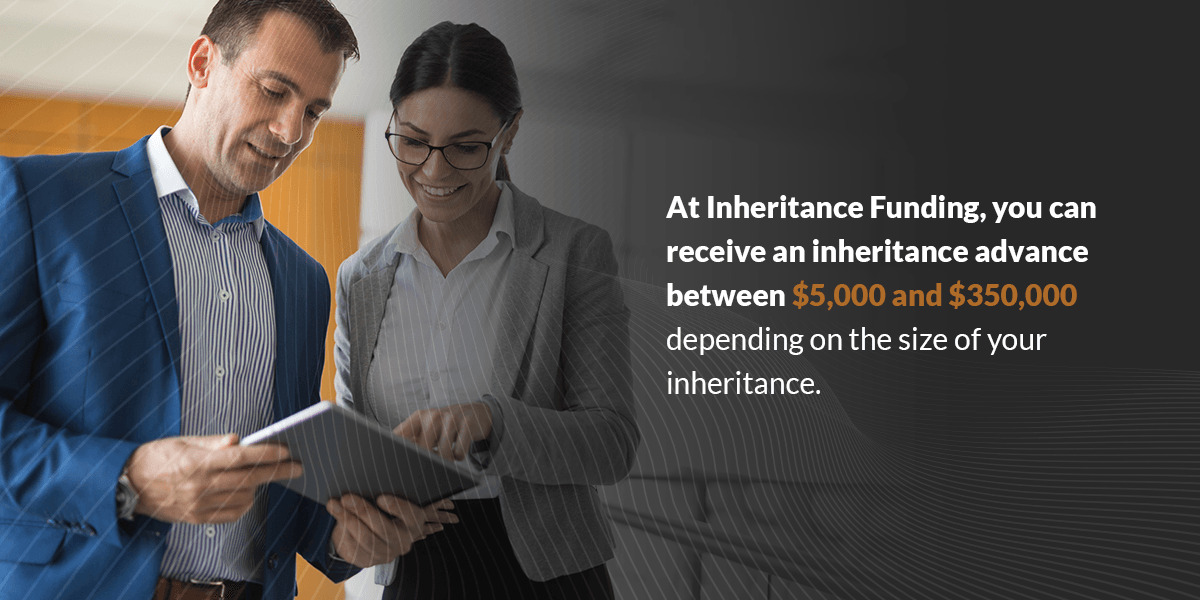 3. You Can Receive Your Inheritance Advance Directly
With an inheritance advance, you can access your cash now rather than wait until the probate process finishes. If you need or want the money quickly, an inheritance cash advance may be the right option for you, especially because you can't know how long the estate will remain in probate.
At Inheritance Funding, you can receive an inheritance advance between $5,000 and $350,000 depending on the size of your inheritance. Generally, an advance will not exceed 40% of your expected distribution.
4. You Won't Be Taking Out a Loan
Since you aren't taking out a loan, you won't need to make monthly payments or pay interest on the funds. That's another reason an heir may choose an inheritance cash advance, as an advance is usually a better option than a personal loan, probate loan or another form of funding.
An inheritance advance is also preferable to using a credit card, as a credit card would require payment of interest if you carry a balance from month to month.
5. You Can Avoid Any Risks
After you sign the paperwork for a cash advance, the terms won't change, which protects you if the estate's distribution delays for any reason. All the risk associated with an inheritance advance is placed on the inheritance advance company rather than on you. In fact, if your inheritance is released early, your fees may even be reduced.
Additionally, there are no fees or risks associated with applying for an advance, so you can apply and discuss your options with a funding officer with no obligation.
What Are Inheritance Advance Rates?
If you decide to take an inheritance cash advance, you should know what to expect to pay to the inheritance advance company for their services.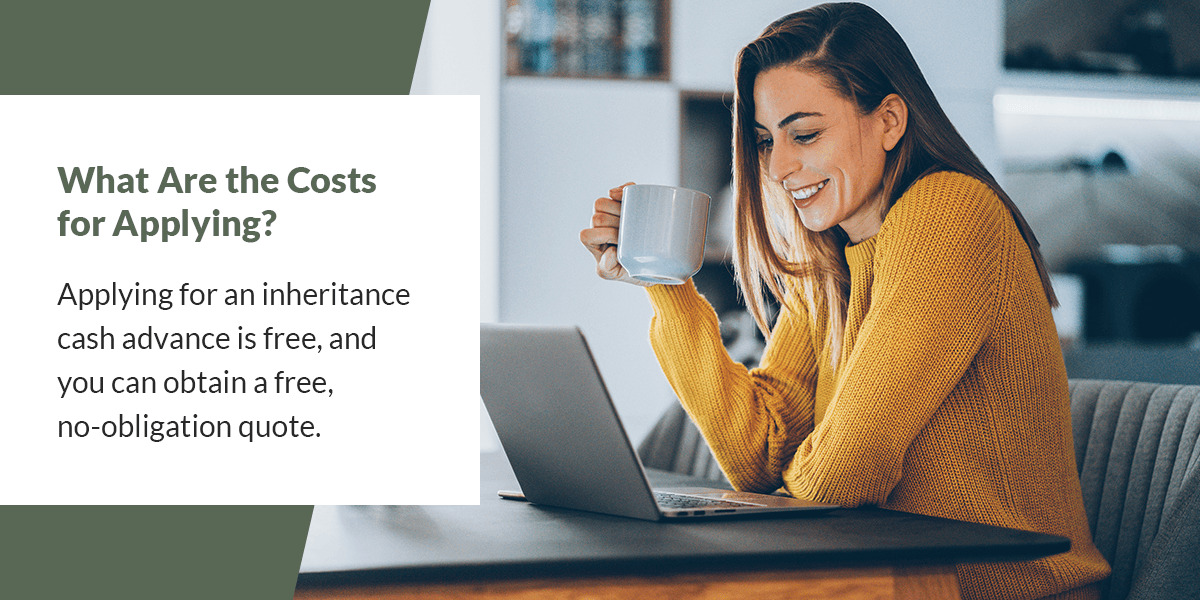 What Are the Costs for Applying?
Applying for an inheritance cash advance is free, and you can obtain a free, no-obligation quote. You can apply online or on the phone and discuss how much an inheritance advance will cost you with a funding officer.
What Will I Pay for an Inheritance Advance?
There's no rate for an inheritance advance that applies to every single heir. Instead, the rate you receive depends on the inheritance advance company, the amount of your inheritance, the size of the advance, the complexity of the estate and how long the inheritance advance company needs to wait for the payout after providing you with your money.
You won't need to make monthly payments as you would with a traditional loan, and you won't have to pay interest. Instead, your cost is considered a fee, which you pay out of your inheritance once you receive them. Flat rates typically range between 10% and 50% of your inheritance's value. At Inheritance Funding, we'll provide you the lowest available price.
Are There Additional Fees or Costs?
There should be no additional fees or costs associated with your inheritance cash advance beyond the fixed rate. Ensure the company you choose doesn't charge any hidden fees or unnecessary expenses that could increase your total cost for the advance.
At Inheritance Funding, we can also offer you significant rebates for early repayment, which could save you even more money. We'll send you the rebate amount in as little as five business days if we get payment in full prior to the early pay-off rebate date.
How Does Payment Work?
When you choose an inheritance cash advance, the company places a claim on your inheritance. The inheritance advance company will receive their share of your inheritance before you get your share. Your fee for the advance and the money you received in your advance will be taken out of this payment. Additional funds beyond the fee and the portion you've already received will be sent to you.
If you want to apply for an inheritance advance, consider other factors beyond the cost, such as the company's reputation, the approval process and how quickly you can receive funds.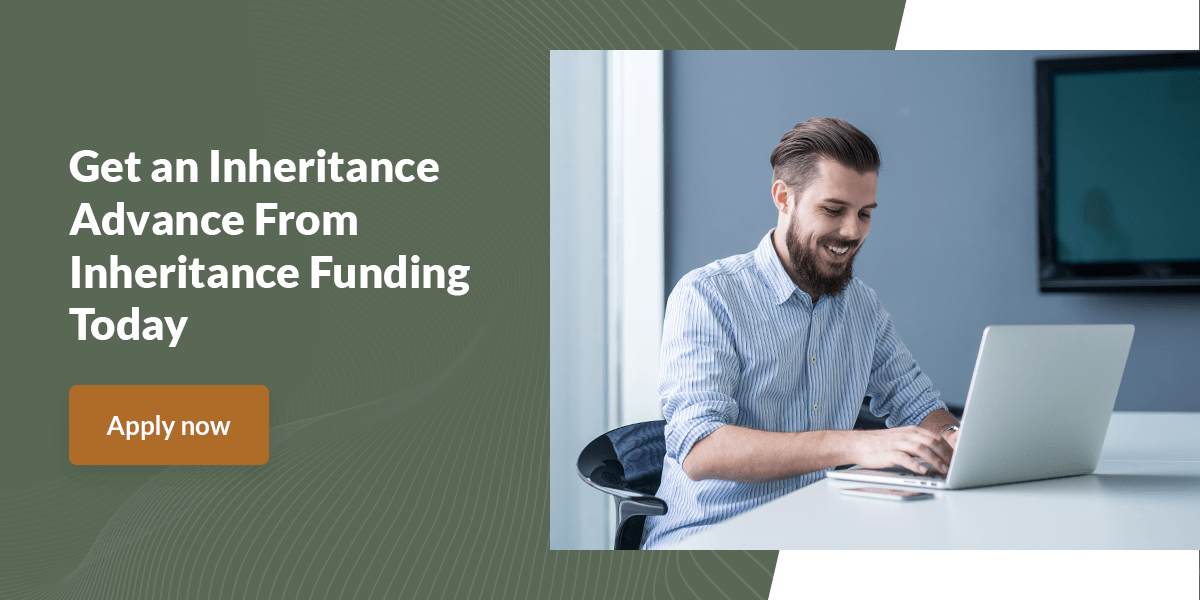 Get an Inheritance Advance From Inheritance Funding Today
If you're interested in receiving an inheritance cash advance, turn to Inheritance Funding. We can serve your needs, answer any questions you have about the process and help you get your money fast. With an inheritance cash advance, we get your money in just 24 hours. We guarantee low fees, along with the most professional, speedy service.
Heirs choose us for our:
No hidden fees

Risk-free service

Same-day funding

Low price guarantee

No monthly payments

Excellent customer service

Stress-free, simple process
Regardless of traditional lending factors like your income and credit score, we can help you get an advance on your inheritance while it's in probate. Are you tired of waiting for your inheritance? Get your free, no-obligation quote from Inheritance Funding today.

Why Wait? Get Your Inheritance Now!