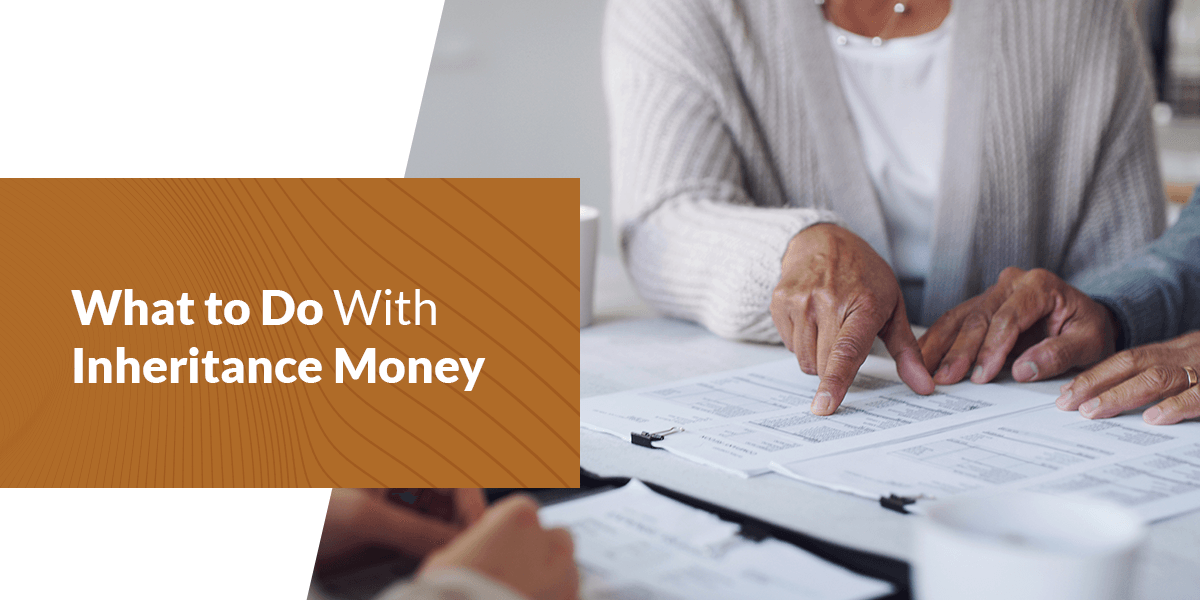 In 2019, the average inheritance in the United States was $110,050. However, this number is projected to increase over the next three decades in what will be known as the greatest wealth transfer in history. During this period, $6 trillion in wealth will change hands to younger generations.
Approximately 30% to 40% of households receive an inheritance in their lifetimes. If you fall into this group and have recently lost a loved one, you may not have thought about what to do with your inheritance money once you receive your share. The reality is, you're not alone.
After you suddenly come into a large sum of money, it's common not to know what to do with it. However, this can be a problem for those who are ill-prepared to handle their inheritances. Studies show that one out of three people who received inheritance money had negative savings within only two years of collecting it. Luckily, you can avoid this fate by learning what to do when you inherit money.
What to Do With an Inheritance
A loved one has passed, and you've suddenly come into considerable wealth. It's all happened so fast — what do you do now? The key to making the most of your inheritance money is knowing how to use it practically and strategically. Luckily, this isn't nearly as complicated as it sounds.
While you may have a large sum of money at your disposal, it's vital to know how to spend it wisely. Try taking advantage of the following tips to determine what you should do with your inheritance money.
Take It Slow
It's important to remember that you may not be in the right frame of mind to begin spending your inheritance right away. Many heirs go through a challenging time after the passing of a loved one, and understandably so.
If you're still experiencing the raw emotions of losing someone close to you, consider setting your money aside and taking some time to grieve. There's nothing wrong with letting your inheritance sit for a few weeks while you process your loss. Once you feel ready, you can begin making smart financial decisions and creating a plan for your inheritance.
Hire a Financial Advisor
If you've had trouble managing your money in the past or simply need a bit of guidance, consider hiring a financial advisor. These certified professionals will offer an objective perspective regarding the best way to use your money and manage your wealth. Financial advisors take the stress out of handling a large sum of cash, so you won't have to wonder if you're doing the right thing.
With a financial advisor on your side, you can relax and feel confident you're putting your inheritance to good use.
Pay Off Your Debts
Coming into money through an inheritance provides an excellent opportunity for you to tackle some of your long-standing debts. Cut down on as much debt as you can, starting with your high-interest debts like loans, mortgages and credit card debt.
If there's any debt you can eliminate completely, do it! With less debt on your plate, you can reduce your overall expenses, save money you'd normally spend on interest and take a step toward living a debt-free life.
Create a Savings Account
It's always a smart move to put your money into a savings account where you can use it when you need it most. When you store your money in a secure savings account, you can use it to your advantage later.
Consider saving your money toward one of the following causes:
Emergency fund: Your emergency fund is meant to support you in the face of unplanned expenses or financial emergencies, such as medical bills, car repairs or unemployment. It's a good rule of thumb to save enough money to cover between three and six months' worth of expenses in the event of an emergency.
Retirement fund: According to experts, you'll likely need around 80% of your pre-retirement income to continue your current standard of living into your retirement years. You can open an Individual Retirement Account (IRA), where you can save up to $6,000 a year — or more if you're over 50 years old.
College fund: If you have or are planning to have kids, you can put your inheritance toward their education by starting a college fund.
Invest Your Money
When you invest your inheritance, you enable your money to grow over time. While it is generally considered best to invest your money in a large basket trade for a solid return, you may want to consult with a financial advisor to help you make the right investments. You can also invest in mutual funds, such as growth, aggressive growth, international or growth and income funds.
Donate to a Good Cause
There's always room for giving in your financial plan. Consider donating some of your inheritance money to a good cause, such as a charity or church.
Think about what your loved one would have wanted. Did they have a cause they were passionate about? Did they support a specific charity? It's always rewarding to donate in honor of your loved ones to allow their legacies to live on.
Enjoy Your Wealth Wisely
After you've covered some of your debts, made wise investment choices and started saving, you can begin to enjoy your newfound wealth. You're allowed to have fun with your money — just make sure you don't go overboard. Generally, it's best to spend no more than 10% of your inheritance on impulse purchases and splurging.
Whether you're gearing up to go on a luxurious vacation, get an education or buy something flashy, just be sure you do it wisely.
What to Do If You Inherit Money But Don't Want to Wait Until Probate Ends to Use It
If you're in line to receive an inheritance but your money is stuck in probate, a probate advance is your solution. Probate advances allow heirs to access a large portion of their inheritance money before the estate is settled through probate. These cash advances are not loans, which means you'll never have to pay interest, make monthly payments or provide collateral. All you do is pay a fixed fee with no risk of non-payment.
At Inheritance Funding, we help heirs skip the tediousness of probate and collect their inheritance immediately. Our process is as simple as it is seamless. To begin, you'll provide us with some standard information about your inheritance, including how much money you'd like to access. Then, we'll help you fill out some simple forms and send you your money right away. It's that easy!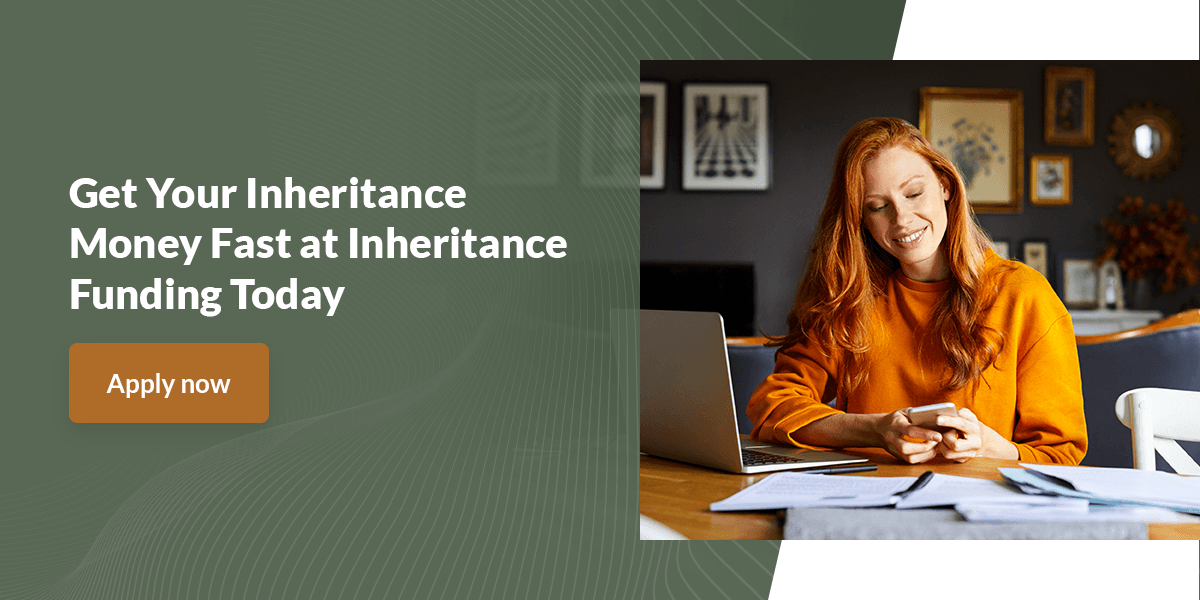 Get Your Inheritance Money Fast at Inheritance Funding Today
After you figure out what to do with your inherited money, it's time to collect your cash with a probate advance from IFC. As the oldest, largest and most trusted inheritance advance company in the industry, we've advanced over $200 million to heirs across all 50 states. Our experts are dedicated to helping you get the money you deserve exactly when you need it.
Apply for your free, no-obligation quote today!
Why Wait? Get Your Inheritance Now!