After an individual passes away, the law requires that their estate be settled through a process called probate. Though many heirs assume that probate court is quick and efficient, it can actually take between a few months and multiple years to close the estate.You, as an heir, are prevented from collecting your inheritance until after probate is complete. However, there is one way you can get your money faster.
Probate advances allow heirs to access a portion of their inheritance money without the wait, meaning they can collect their share before probate ends. If you're a first-time heir, you're probably wondering if you can get an inheritance advance on your loved one's estate. Inheritance Funding is here to help with fast and simple cash advances.
What Qualifies As an Estate?
When people hear the word "estate," they often think about a person's physical property, such as their land and their house. However, this word has a different meaning in legal terms.
An estate refers to all assets that an individual leaves behind after they die, including all of their cash, land, real estate, personal possessions and any other resources of economic worth. It is essentially a decedent's net worth based on the value of all of their assets.
Can I Get a Cash Advance on an Estate?
Heirs who try to borrow money from an estate tend to have difficulty doing so. This is because the money from an estate doesn't legally belong to you until after probate ends and the estate is settled. For example, you could try taking out a personal loan, but most lenders won't provide money on collateral that isn't yet in your name.
The solution is to get a cash advance on the estate. Estate cash advances allow beneficiaries to access a portion of their inheritance money without going through lenders or waiting for the probate courts to close the estate. Through an inheritance advance, a funding company gives you a portion of your inheritance immediately for a fixed fee that you don't have to pay back until after the estate settles. Unlike an estate loan, advances don't charge interest or require monthly payments.
How Do I Get an Estate Advance?
At Inheritance Funding, we make estate cash advances easy and stress-free with our simple probate advance process. Have a brief discussion with one of our friendly representatives, and you could receive your money within the same day.
During your free consultation, you'll let us know how much money you're looking to collect from your share of the estate. Then, we'll walk you through a few quick forms – you could get your money that same day. After probate ends, the estate will pay us directly out of your share of the inheritance, leaving you with the rest.
Get Money Fast From IFC Today
If you're an heir looking to get a cash advance on part of an estate, Inheritance Funding is your solution. We've spent over 25 years helping heirs across the country collect their inheritance without waiting on probate, and we can do the same for you.
Apply for an inheritance advance online or contact us to learn more about our services today!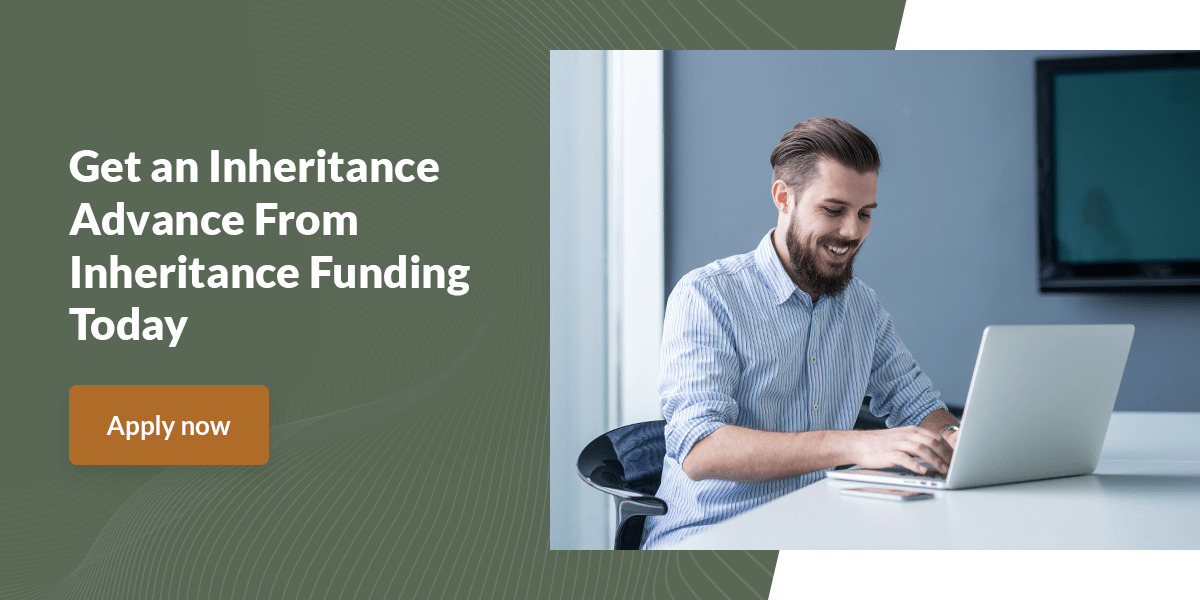 Why Wait? Get Your Inheritance Now!