When an individual passes away, their estate must be settled through the probate courts. What many heirs don't know is that the probate process is notoriously long and tedious, preventing inheritors from collecting their inheritance money until after the estate closes. This legal process can take anywhere from a few months to several years to complete, leaving heirs feeling frustrated and discouraged.
Though probate is required by law, there is a way to get around it. With an inheritance advance, you can break through the restraints of the probate court and get your money fast. At Inheritance Funding, we're committed to making inheritance easy, helping you access cash exactly when you need it.
What Exactly Is an Inheritance Advance?
Inheritance advances, also known as probate advances or cash advances, allow heirs to access their share of an estate without waiting for the probate process to end. Instead, they can collect a portion of their inheritance money anytime after the estate opens, regardless of whether it's been settled.
Probate advances are not the same as probate loans, though people tend to use these phrases interchangeably. Probate loans come from lenders and require recipients to pay interest and make monthly payments on the loan until the estate is settled.
With an inheritance advance, you're not obligated to make monthly payments, provide collateral or pay interest. Unlike loans, cash advances are non-recourse and have no risk of non-payment, which means you'll never be liable for repayment  — even if there's not enough money in the estate to pay the funding company after probate.
How to Get Your Inheritance Money Now
You can get your inheritance money instantly when you apply for a probate advance from IFC. We make getting your cash advance as simple and painless as possible with our streamlined process beginning with a quick meeting and ending with instant payout.
During your free consultation, you'll sit down with one of our friendly and knowledgeable staff members to discuss how much money you'd like to access from your inheritance.
Next, we'll help you complete some simple paperwork to determine eligibility before wiring your cash to you – often within the same day. After the probate process ends, the estate will pay us directly from your share, and you'll receive the rest of your inheritance.
Why Choose IFC for Your Inheritance Advance?
We've been providing heirs with cash advances since our establishment in 1992, and we're still upholding our reputation as the largest and longest-standing inheritance advance company in the industry today. When you go through IFC for your probate advance, you'll experience these advantages:
Simple, stress-free process
Same-day funding
Lowest price guarantee
Risk-free service
Excellent customer care
No hidden fees
Money for all your needs
Skip the Probate Process and Apply for an Inheritance Advance Today
If you're ready to bypass the probate process and get your inheritance money now, Inheritance Funding is here to help. We've advanced over $200 million to inheritors across all 50 states, helping them get the money they deserve in under 24 hours. As the leading cash advance provider for heirs, you can trust that we have the skills and knowledge to do the same for you.
Apply for an inheritance advance or contact us for more information on our services today!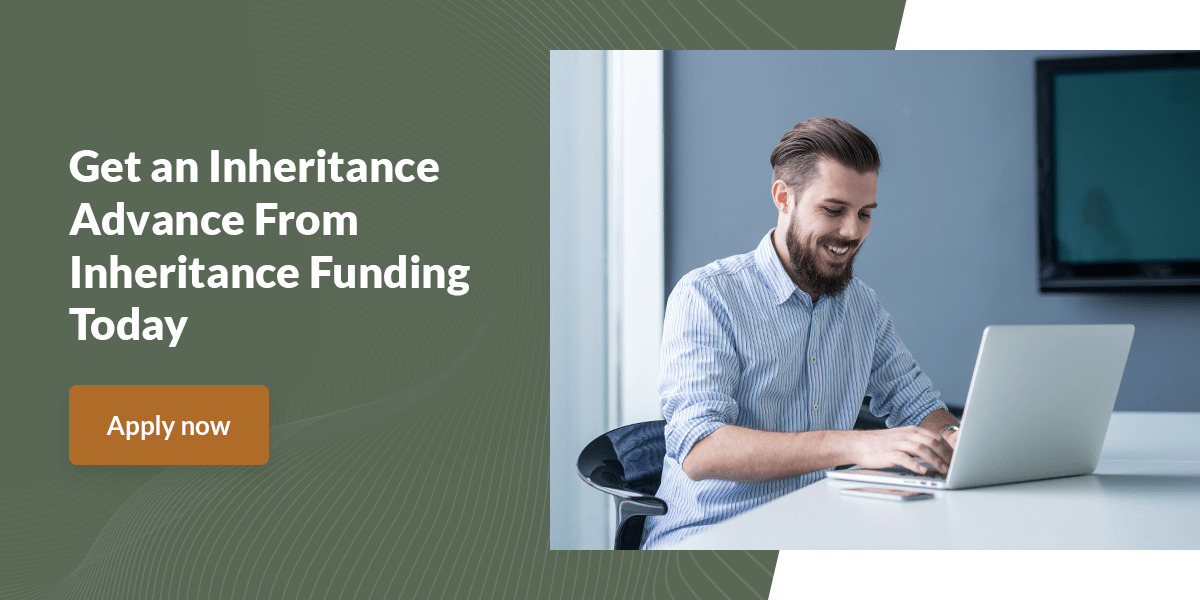 Why Wait? Get Your Inheritance Now!